Universal Studios Hollywood
Panasonic Theater
Constructed (as far as I know) for the Star Trek Adventure, this 1200 seat venue on the Upper Lot has seen a number of changes over the years.
As well as being home to the attractions below, the stage itself was perfect for multiple camera shoots and has been used for many productions including the nationally broadcast talk shows, Oprah and Cristina. The following shows have also been taped at the Panasonic Theater: Hollywood Insider, MTV's Real World Reunion Show, KVEA's Navidad en el Barrio, The Young Star Awards (November 1999), If Animals Could Talk, Miss Fitness, Monday Night Live with Todd Donohoe.
Specifications and plan from Totally Nickelodeon days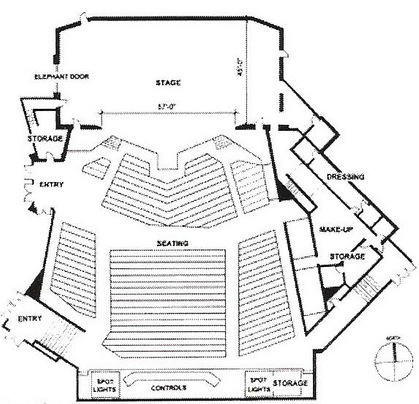 Stage width: 84 feet
Proscenium width: 57 feet
Stage depth: 45 feet
Ceiling height: 26 feet
Audience capacity: 1240
Center aisle width: 10 feet
Aisles near stage: 4.5 feet
Aisles at back of house: 6.5 feet
Attractions in the Panasonic Theater
Back to...
Leave Comments