Universal Studios Hollywood - Backlot
Fires and Storms
May 15 1967
This devastating fire, believed to have started in a barn on the Laramie Street set, destroyed sets including the Little Europe area (including the Court of Miracles). Part of Spartacus Square was spared, only to be destroyed 20 years later.
"Wind-whipped flames chew their way through movie and TV sets on Universal Studios' back lot, causing an estimated $1 million damage. A studio spokesman reported the fire, which sent flames 200 to 300 feet into the air, started near the "The Virginian" set then spread to the "Run For Your Life" filming area."
The 12-acre blaze consumed the "European," Denver" and "Laramie" street sets and burned out of control for an hour.
Wind-blown sparks showered upon nearby Warner Bros. Studios causing at least one minor fire on the roof of the old casting building. Embers were carried as far as NBC Studios, two miles away and across the river to the Lakeside golf course.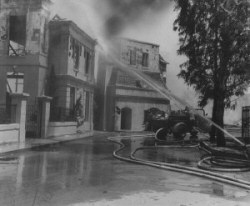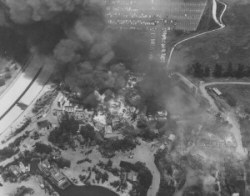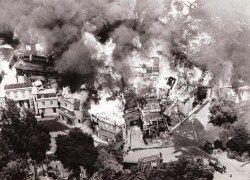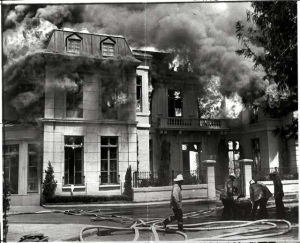 Additional research by Dennis Dickens
Leave Comments
Back to...