Universal Studios Hollywood
Backlot - Chicken Ranch (Colonial Street #14)
Originally named after it's role in The Best Little Whorehouse in Texas (1982) this set is currently being re-modelled to be the new Munster home for the TV reboot Mockingbird Lane.
Whether it will still be recognisable as The Chicken Ranch after the rebuild is finished is not known.

Unlike many buildings on the lot, this is a fully practical set which can be fully used as a location, both inside and out. It's based on a real house in Austin, Texas where establishing shots for Best Little Whorehouse were filmed.
The set was originally built inside Stage 12 (for better control over the environment for filming) and was moved to it's current location after filming, so it could be used for other productions.
It's position was previously occupied by the Psycho house (which was moved to it's current location when filming began for Psycho II in 1983).
A small outhouse behind the Chicken Ranch was moved, around March 2007, and is now at the entrance to the Earthquake attraction behind Denver Street.
The other buildings at the rear of the set were removed around March / April 2012, in preparation for a new extension for Mockingbird Lane.
Photo Gallery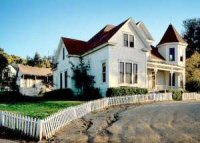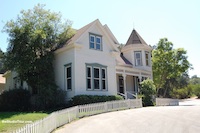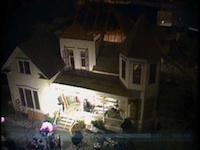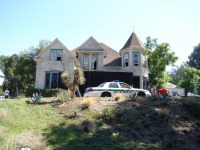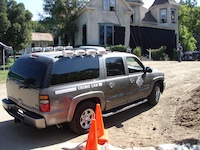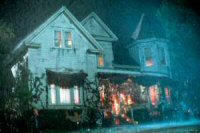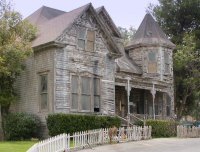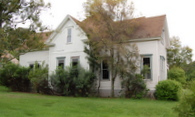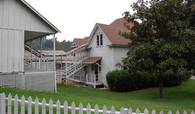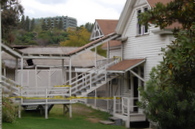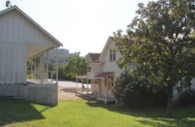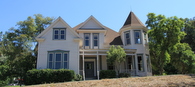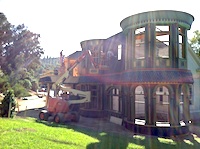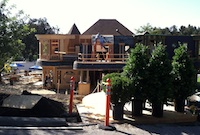 Seen on Screen: Universal Studios Hollywood [Chicken Ranch]
Title
Released
Director
IMDB
The Best Little Whorehouse in Texas [Feature Film]
1982
Colin Higgins
Chicken Ranch set was built in full on Stage 12 and opened like a dollhouse for interior and exterior shots. The set was moved to it's current outdoor location after filming.
Fathers' Day [Feature Film]
1997
Ivan Reitman
Chicken Ranch on the Universal backlot
The Visitor [TV Series]
1997
Kevin Kerslake
Chicken Ranch
Providence [TV Series]
1999 - 2002
John Masius
The main Providence house can still be found on Colonial Street. The Chicken Ranch also featured. Interiors were shot on Stage 22, Stage 24, Stage 25 and Stage 36.
CSI [TV Series]
2000-
Ann Donahue, Anthony E. Zuiker
Based on Stage 22, Stage 23, Stage 24, Stage 25 on the Universal front lot. Many sets on the backlot have also appeared including the Chicken Ranch (2005) and New York Street sets.
Beethoven's 5th [Feature Film]
2003
Mark Griffiths
Chicken Ranch
The House of 1000 Corpses [Feature Film]
2003
Rob Zombie
The Chicken Ranch appeared as the Firefly residence in this notorious horror movie (it was filmed in 2000 but not released until 2003).
Ghost Whisperer [TV Series]
2005-2010
John Gray
Based on Courthouse Square, this series also filmed in the Chicken Ranch, on Colonial Street, on Elm Street, in the Underwater Tank and on Stage 05, Stage 06, Stage 18, Stage 19, Stage 20 at Universal.
The Mentalist [TV Series]
2008-
Bruno Heller
Chicken Ranch
Mockingbird Lane (aka The Munsters) [TV Pilot]
2012
Bryan Fuller
The Chicken Ranch near Colonial Street is being re-modelled to be the new 1313 Mockingbird Lane (May 2012)
---
Leave Comments
See also
Back to...