Universal Studios Hollywood - Backlot
Six Points Texas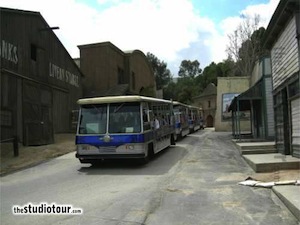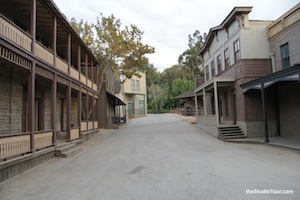 Despite tour guides telling us the Six Points Texas area has been used since the silent era, only one building dates back to those days (the Livery Stable barn seen in the photo above). The western street from the silent days was closer to the front lot.
Denver Street is the only western street on the backlot still in it's original position.
Six Points is so-called because it consists of six Western streets all leading from one point. In the early days of Universal movie-making, visitors would gather at the Western streets to watch up to 6 films being shot simulataneously. As they were silent films, there was no problem with sound getting picked up, so the crowd were able to applaud the good guys and boo the bad guys.
There are two sets of doorways at Six Points - some are larger than life, to make the damsels in distress seem more vulnerable, and some are slightly smaller than life, to make the cowboys seem more imposing and impressive!
Tram On-Board Video with Whoopi Goldberg at Six Points (2007)
The main road through Six Points is named John Wayne Road.
Some of the buildings that currently make up Six Points were built in 1994/5 for the MGM/UA film Wild Bill, starring Jeff Bridges.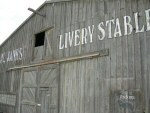 "Six Points has a history almost as rich as the wild west it imitates.
It was here that the very first filming was done on the Universal lot in 1915. In those early days, when film had no sound, as many as six different movies could be shot here at the same time.
Since each western street set is different, movie companies could change 'towns' by merely moving around the corner.
One of the six converging streets has the livery stable (photo on the right) where Mae West saved W.C.Fields' life in My Little Chickadee. In later years, the boots that walked these dusty streets were worn by men who became legends: John Wayne, James Stewart, Tom Mix, Andy Devine, Audie Murphy and Clint Eastwood, to name a few."
From Inside Universal Studios, 1990
SIX POINTS TEXAS - Excerpts from Studio Guide Manual, 1999
This particular street we're on is known as John Wayne Road, named, of course, after the most famous western star of all. "The Duke" did several westerns here on our lot including The War Wagon and Rooster Cogburn.
Though most of the sets in this area have been around since the early 1900s, some of the structures were built more recently for the United Artists film Wild Bill, starring Jeff Bridges.
Historically, this area has been called "Six Points Texas" because there are six different western streets that meet in the central area. When Westerns were shot here frequently, each street was set-up as a complete town, with its own bank, sheriff's office, hotel and saloon. In the silent film days, six different Westerns could be shot at any one time. That's one of the reasons why more movies have been filmed here than any other spot in the world! The great thing about having six different streets is that there were six different towns: whenever the sheriff had to tell a bad guy to get out of town, all he had to do was turn the corner and he was out of town!
Stars of Six Points
John "The Duke" Wayne
Tom Mix
Hoot Gibson
Ken Maynard
Andy Devine
Audie Murphy
Seen on Screen: Universal Studios Hollywood [Six Points]
Title
Released
Director
IMDB
My Little Chickadee [Feature Film]
1940
Edward F. Cline
Six Points Texas - the Livery Stable set is still at Six Points to this day
Winchester '73 / Winchester 73 [Feature Film]
1950
Anthony Mann
Six Points Texas
The Mississippi Gambler [Feature Film]
1953
Rudolph Maté
Six Points Texas, Park Lake
War Arrow [Feature Film]
1953
George Sherman
Six Points Texas
Wagon Train [TV Series]
1957-1965
Lawrence Menkin
Denver Street, Six Points Texas, Colonial Street Munster House (Kitty Pryer Story, 1963), Stage 19, Psycho House (Eleanor Culhane Story, 1961)
Laramie [TV Series]
1959-1963
Six Points Texas, Stage 36
The Virginian [TV Series]
1962-1971
Frank Price, Teddi Sherman
Colonial Street, Denver Street, Six Points Texas, Train Station, Stage 34
The Rare Breed [Feature Film]
1966
Andrew V. McLaglen
Six Points Texas
The War Wagon [Feature Film]
1967
Burt Kennedy
Six Points Texas
Two Mules for Sister Sara [Feature Film]
1970
Don Siegel
Six Points Texas
Alias Smith and Jones [TV Series]
1971-1973
Glen A. Larson
Denver Street, Old Mexico, Six Points Texas, Train Station, Stage 36
Rooster Cogburn [Feature Film]
1975
Stuart Millar
Six Points Texas
Battlestar Galactica [TV Series]
1978-1979
Glen A. Larson, Lou Shaw
The backlot Tower of London castle set featured in 1978 episode The Magnificent Warriors. Six Points Texas also featured.
Simon and Simon [TV Series]
1981-1989
Philip DeGuere
Colonial Street, Courthouse Square, New York Street, Elm Street (as Industrial Street), Old Mexico, Six Points Texas, all on the Universal Studios backlot. Stage 25
Knight Rider [TV Series]
1982 - 1986
Glen A. Larson
Along with soundstages, the backlot was used extensively including Colonial Street, Courthouse Square, Denver Street, Boragora and Six Points Texas. Stage 28 appeared in Season 4 Fright Knight episode. Stage 01 was also used.
The A Team [TV Series]
1983-1987
Stephen J. Cannell, Frank Lupo
Little Europe, Six Points Texas
Steel (Season 2 Episode 11) - Upper Lot, Jaws Attraction, Studio Tour
Airwolf [TV Series]
1984-1986
Donald P. Bellisario
Colonial Street (Cleaver House), Colonial Street Church, Denver Street, Little Europe, New York Street, Six Points Texas, Square of Warriors, Tower of London backlot sets, Stage 14 [helicopter interior mockup], Stage 20 [process shots], Stage 24 [Hawke Cabin set], Stage 27 [The Lair hideout], Stage 28 [process shots]
The Color Purple [Feature Film]
1985
Steven Spielberg
The dress shop opened in the final scenes of the movie was at Six Points Texas on the backlot. Stage 37 was also used.
Wild Bill [Feature Film]
1995
Walter Hill
Some of the buildings currently at the Six Points Texas backlot location were built for Wild Bill in 1994, including the saloon at the centre point of the six points. The elaborate practical set has been since used in Jessica Simpson's music video for These Boots Are Made for Walking.
Seabiscuit [Feature Film]
2003
Gary Ross
Stage 35, Six Points Texas on the backlot
Carnivale [TV Series]
2003-2005
Daniel Knauf
Six Points Texas
Jessica Simpson: These Boots Are Made For Walking [Music Video]
2005
Brett Ratner
Saloon at Six Points Texas that was built for Wild Bill.
Bedtime Stories [Feature Film]
2008
Adam Shankman
Six Points Texas on the backlot
Pepsi - Mini Can [Commercial]
2014
Shot entirely on the backlot at Universal Studios Hollywood. New York Street, War of the Worlds Set, Six Points Texas
Saving Mr. Banks / Saving Mr Banks [Feature Film]
2014
John Lee Hancock
Backlot sets Six Points Texas and Courthouse Square are featured in two short sequences.
Once Upon A Time... In Hollywood [Feature Film]
2019
Quentin Tarantino
The Lancer sequence was shot on the Western backlot sets known as Six Points Texas
---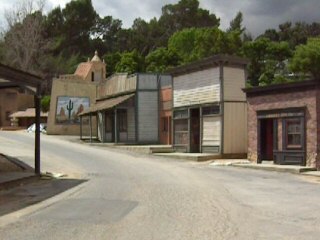 NEW: Click for a short video spin around Six Points
(Quicktime Movie - 700kb - VIP Tour, April 2006)
Back to...