Universal Studios Hollywood - Backlot
Fires and Storms
FIres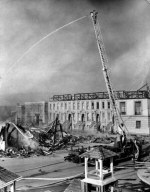 Universal has had more than it's fair share of devastating fires on the backlot. Although the buildings look like solid brickwork, they are mostly timber framed structures with plastic, timber or plaster cladding to give them a realistic finish.
Although there are regular security patrols and there is now CCTV covering sections of the backlot, it's a huge area and like any city, problems happen.
There have been eight major fires in the studios history - click on the dates below for more information.
1932 - 1949 - 1957 - 1967 - 1987 - 1990 - 1997 - 2008
There have also been a number of smaller fires;
---
Storms
As well as the Flash Flood, a whole host of real-life weather effects have been thrown at the Backlot.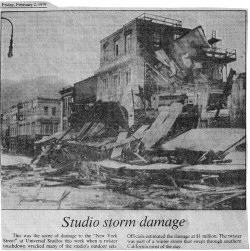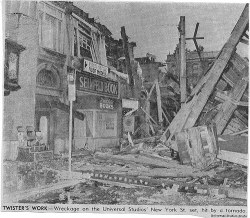 Thursday February 1st, 1979
Tornado damages New York Street and Chinatown (Research by Dennis Dickens)
Leave Comments
Back to...