Universal Studios Hollywood
Backlot - Elm Street
[formerly known as Laramie Street, Industrial Street and Mockingbird Lane]
This small street is positioned just below Colonial Street and is frequently used for production work.
Although the VIP Experience small trams are able to visit the street, it's not possible for the main Studio Tour trams to visit, as they cannot turn around. There is an access road at the far end of Elm Street, but it's too steep for the trams to negotiate. There was some space for trams to turn in a parking lot at the end of the street but this space has been taken up by a fully practical house that was built for the Will Smith superhero drama Hancock in 2006.
Although it may seem as though this area is connected to the Nightmare on Elm Street franchise from New Line Cinema, there's no connection.
History
Laramie Street (1946 to 1980)
This area of Western streets was first used in the 1946 movie Canyon Passage, set in 1850s Jacksonville, Oregon. In 1959 the same area was used as the base for the TV series Laramie (1959 - 1963), set in 1870s Wyoming.
In 1960, the Bates Motel and Psycho House sets were built adjacent to the Laramie Street sets.
When Denver Street was constructed in 1967, it led to Laramie Street.
Seen on Screen
Canyon Passage (1946)
Laramie (1959) TV series 1959-1963
Tales of Wells Fargo (1957) TV series 1957-1962 [seasons after 1959]
Rawhide (1959) TV series 1959-1966 [one episode]
Wagon Train (1957) TV series 1957-1965 [seasons after 1959]
The Virginian (1962) TV series 1962-1971
Laredo (1965)
The Tall Man (1960) TV series 1960-1962
The Hardy Boys / Nancy Drew Mysteries (1977) TV series 1977-1979
Adam-12 (1968) TV series 1968-1975
Night Gallery (1970) TV series 1970-1973
Emergency! (1972) TV series 1972-1979
The World in His Arms (1952)
Psycho (1960)
1955 Industrial Street
More information coming soon
1981 - 2002 Industrial Street (thanks to Dennis Dickens for additional research)
In 1981, the MCA Master Plan was radically changing the topography of the backlot and (what is now) the theme park area. A new area called Industrial Street was created, at a higher elevation, but in the same location as Laramie Street. New Industrial Street consisted of a single row of 9 house sets from three other backlot locations. It runs parallel to Denver Street, which was built in 1967. During the remodelling, the original western sets, the original Bates Motel location and a hillside farm house were filled in by earth movers. The Laramie Street church was moved to the current Six Points Texas area.
The original houses on Elm Street (then known as Industrial Street, and moved from their previous location near New York Street) were part of a expansive set built for To Kill a Mockingbird. A whole street of real residential properties were bought by Universal in 1961 from the developers of the Dodgers Stadium (opened in 1962) which was being built in Chaves Ravine. Universal bought them from the developers for $1 each after the residents moved out.
House sets were moved from around the backlot to populate the new street.
Some of the houses from To Kill A Mockingbird were moved from their original location (adjancent to the New York Street sets) to allow expansion of that area.
Some of the original Colonial Street houses from the north of the backlot were moved onto Industrial Street.
The Industrial Street properties from the northern 1955 location were moved to make way for production offices and a parking lot.
The new area above Industrial Street became the new 1981 Colonial Street.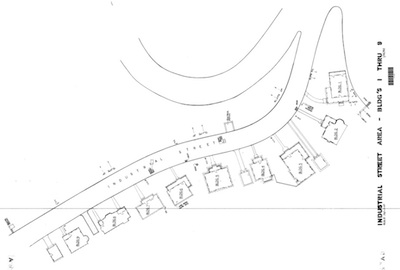 2002 - 2007
Most of the houses currently on Elm Street were designed and constructed for Hulk in 2002.
The interiors of four of the houses can be used as practical sets. The houses have been constructed with steel beams so that all of the interior walls are not load-bearing and can be removed and positioned as required by the set designers.
The only original house remaining from To Kill A Mockingbird is the first one on Elm Street, which featured as the Boo Radley house. This same house featured in CBS's Ghost Whisperer. Ironically, it's the only house featured in To Kill A Mockingbird that was built at Universal - legendary Production Designer Henry Bumstead designed the house - all the others in the Mockingbird neighbourhood were from the Chaves Ravine site. It was substantially altered for Hulk in 2002 - the exterior received a new porch, rail and paintjob and the interior floor and walls were replaced.
Overall, the Hulk construction crew worked for 7 months on site to create the new Elm Street.
2007 - present
The house at the end of the street was constructed in 2007 for the Will Smith superhero drama Hancock and is a fully practical modern house.
Current Properties on Elm Street
Boo Radley House #1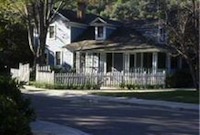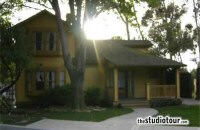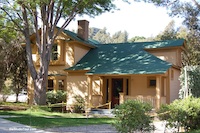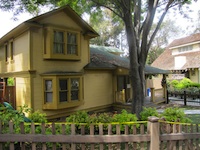 #2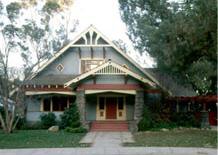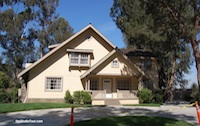 #3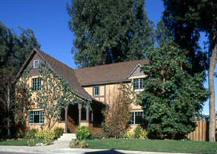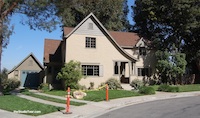 #4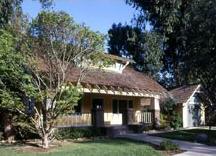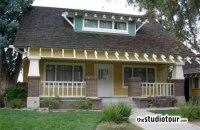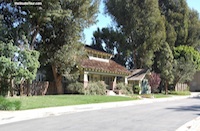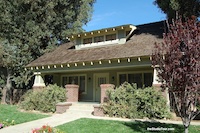 #5 Hancock House
Built in 2007 for the Will Smith superhero drama at the end of the street, over what was once a parking lot. The set is fully practical.
Hancock House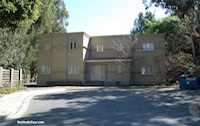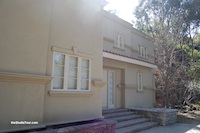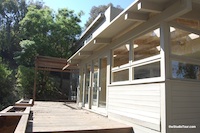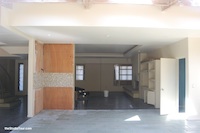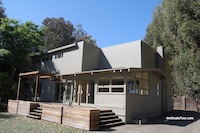 #6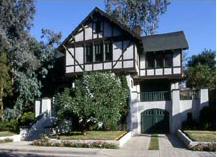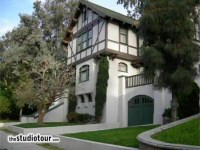 #7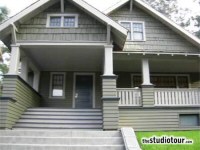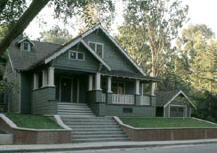 Previous Elm Street / Industrial Street sets
#8 - Here Come The Nelsons house

Building 8

This was Set #21 on New England Street (1949 - 1955)
It was moved in 1955 to make room for the Paramount House for Desperate Hours (1955)
In 1956 it was moved to Industrial Street where it was Set #1
In 1981 it became Building #8 on new Industrial Street (now Elm Street)
In 2003 it was removed during pre-production on Hulk (2003).

Seen on screen:

Here Come The Nelsons (1951)
Anybody Seen My Gal (1952)
Abbott & Costello Meet The Keystone Kops (1955)
Many thanks to Dennis Dickens for detailed research.
Seen on Screen: Universal Studios Hollywood [Elm Street]
Title
Released
Director
IMDB
To Kill A Mockingbird [Feature Film]
1962
Robert Mulligan
Courthouse Square, Stage 29, Stage 30 [courthouse interior], Stage 32. The courthouse interior built on Stage 30 was a painstakingly accurate reproduction of the courthouse at Monroeville, Alabama.
The whole street featured in the movie was built on the backlot, adjacent to the New York Street sets. The Boo Radley house was designed by Henry Bumstead and built at Universal, while all other houses were moved to the backlot from Chaves Ravine, where developers were clearing the land for the Dodgers Stadium. The houses were bought for $1 each from developers. The Boo Radley house remains on Elm Street to this day.
Simon and Simon [TV Series]
1981-1989
Philip DeGuere
Colonial Street, Courthouse Square, New York Street, Elm Street (as Industrial Street), Old Mexico, Six Points Texas, all on the Universal Studios backlot. Stage 25
Murder She Wrote [TV Series]
1984-1996
Various
"Incident on Lot 7" - Season 8, Episode 13 (1992) - Psycho House
"Jessica Behind Bars" - Season 2, Episode 9 (1985) - Square of Warriors / Spartacus Square Embassy building appears as the Prison exterior.
"Hooray for Homicide" - Season 1, Episode 3 (1984) - Front Lot & Studio Tour
Colonial Street, New York Street (as London), Tower of London set (as an amusement park), Little Europe (unknown episodes)
Elm Street (as Industrial Street), Singapore Lake (Jaws Lake) appeared in the opening titles as Cabot Cove, Maine.
"To Kill A Legend" (Season 11 Episode 3, October 1994) Circle Drive on Colonial Street is featured prominently as the location for the battle re-enactment. The Colonial Street Church is seen in many shots.
"Seal of the Confessional" - Season 6 Episode 2 (1989) - Colonial Street Church appears in the opening sequence. Jaws Lake appears as Cabot Cove.
Stage 20 [pilot], Stage 22, Stage 25 (interior Jessica Fletcher's house), Stage 29, the backlot Train Station appeared in one episode.
Episode The Murder Channel (Season 11, Episode 6) features Brownstone Street and New York Street prominently. (1994)
Matlock [TV Series]
1986-1995
Dean Hargrove
Seasons 1 to 6 filmed at Universal. The Matlock house is on Colonial Street (Corner House). Singapore Lake and Elm Street were also featured.
Crossing Jordan [TV Series]
2001-2007
Tim Kring
Elm Street, Square of Warriors, Falls Lake (Season 6 Finale), Stage 27, Stage 33, Stage 36, Stage 37, Stage 41, Stage 42, Stage 43, Stage 44
Boomtown [TV Series]
2002-2003
Graham Yost
Elm Street
Monk [TV Series]
2002-2009
Various
Various episodes shot on New York Street and Elm Street on the backlot.
Hulk [Feature Film]
2003
Ang Lee
A new set of houses was built on Elm Street on the backlot for this movie. Banner's childhood home was built on the Falls Lake tank. These stages were used for interior scenes: Stage 01, Stage 12 [underground lab], Stage 22, Stage 23 [father's house interior], Stage 27, Stage 28 [the first floor of Bruce Banner's house], Stage 35.
Garfield [Feature Film]
2004
Peter Hewitt
Stage 19, Stage 25, Stage 36, Elm Street
Desperate Housewives [TV Series]
2004 -
Marc Cherry
Colonial Street and Elm Street as well as Stage 01 [production of season 3 started on Stage 1 then moved to other stages including larger Stage 41], Stage 03, Stage 04, Stage 05. In Season 1 Episode 18 the Log Cabin appeared as Camp Hennessey. Colonial Street sets featured: Delta House, Munster House, Harvey House, Hardy House, Dana House, Burbs House, Providence House, Cleaver House
Ghost Whisperer [TV Series]
2005-2010
John Gray
Based on Courthouse Square, this series also filmed in the Chicken Ranch, on Colonial Street, on Elm Street, in the Underwater Tank and on Stage 05, Stage 06, Stage 18, Stage 19, Stage 20 at Universal.
Heroes [TV Series]
2006-2010
Tim Kring
Little Europe (as India), Freeway Park (Season 4), Stage 33, Stage 34, Stage 37, Stage 43
Old Mexico and Elm Street (fire) (Season 2, Episode 8)
Norbit [Feature Film]
2007
Brian Robbins
The Norbit house is a permanent set on Elm Street on the Universal backlot.
Carpoolers [TV Series]
2007-2008
Bruce McCulloch
Stage 35, Stage 36, Stage 37, Elm Street
Hancock [Feature Film]
2008
Peter Berg
A new house was built for this movie on Elm Street on the Universal backlot. It's a fully practical set.
MSN: No-one Wants to Look Dumb (Date) [Commercial]
2008
Elm Street on the backlot
---
Additional On Screen:
FACTS AND FIGURES
Length of street: just under 340 feet.

Parking lot at one end for production trailers and other vehicles.

Newly built houses have steel exterior frames but no interior load-bearing walls.
The end of Elm Street leads to the Court of Miracles and the Train Station.
Leave Comments
See also
Back to...