Universal Studios Hollywood

Universal CityWalk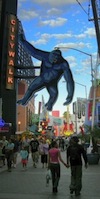 This popular shopping and entertainment area was built it 1993 and expanded in 2000. It provides a link between parking areas and the theme park, gives customers an opportunity to spend more money (and eat and shop) after leaving the theme park, and gives local residents a buzzing environment to spend dollars and see movies.
The whole area (along with parking structures and service areas) can be used by production companies for filming.
During the 2000 expansion, an outdoor video screen and lighting system was added to CityWalk.
Setting a new standard for environmental entertainment systems, Podium Arts founder Joseph Finneran led the creative concept development, design and overall integration of a major site-wide media overlay at Universal Studios landmark retail facility in Hollywood. As part of it's expansion to a 220,000 square foot facility, the system amplifies the visitor experience of multiple neighborhoods, tailoring music, video, lighting and other controlled systems to fit the architectural character and day-part demographics of the street. The project involved original branding (custom copy, graphics and music), a deal for perpetual, regularly updated content with Universal Music Group, and an operating system capable of automated, randomized operation for multiple weeks of 18-hour days. The system also supports manual, customized operation for use with major movie premieres, broadcast shoots and other live events. It is approaching 15 years of continuous service.
On screen:
Shopgirl (2005, Steve Martin)
ER
Neighbors (aka Bad Neighbours in the UK) (2014, Zac Efron & Seth Rogen are seen outside Abercrombie & Fitch at the end of the film - see below)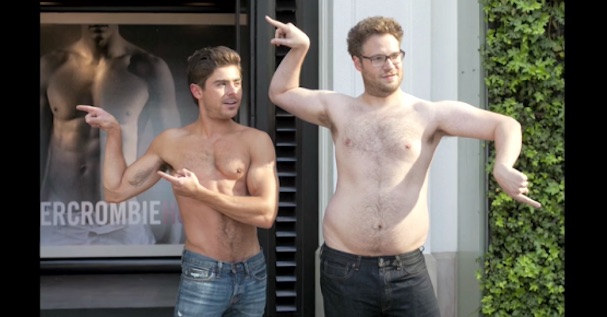 Cinemas
Opened in 1987 by Cineplex Odeon, the Universal City Cinemas contain 18 regular motion picture auditoria and one IMAX screen. Since 2007 they have been operated by AMC Loews.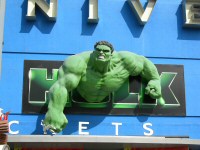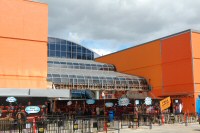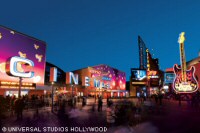 PRESS RELEASE:
UNIVERSAL CITY, Calif. -- April 20, 2007 -- Universal CityWalk Cinemas celebrates its sweeping top-to-bottom re-launch with an unprecedented "Open House" at the movies offering guests a free day of movie-going complete with free popcorn and free soft drinks and introducing audiences to "The Best Movie-Going Experience in L.A." on Thursday, May 3, beginning with the first late-morning screenings and continuing through the last regular showtimes of the day.
Guests will enjoy a free "first look" at the Universal CityWalk Cinemas' (CityWalk Stadium 19) comprehensive re-do, featuring technically advanced screens, a sophisticated, state-of-the-art sound system, an "eye-popping" interior and exterior design and the widest, stadium-style seating available in any U.S. theatre.
"Open House" guests will find lavishly remodeled theatres and will be seated in custom-made, ergonomically-designed stadium-style "rocker seats," measuring 26" in width with first-class spacious leg room. They'll watch movies on new, wider, curved wall-to-wall movie screens, and enjoy perfectly balanced digital surround-sound systems.
Living up to its billing as "The Entertainment Capital of L.A.," Universal Studios Hollywood celebrates summer 2007 with the "New CityWalk," featuring a lively mix of new dining choices, a collection of contemporary retail favorites, an exciting range of entertainment that includes free concert performances and free outdoor movie screenings as well as the ever-popular mechanical bull-riding at Saddle Ranch Chop House, virtual NASCAR racing, salsa dancing at the Rumba Room, and the newly revitalized 18-screen and IMAX theatres.
Food / Drink
B.B.Kings Blues Club
Bubba Gump Shrimp Co. (formerly Gladstones)
Buca Di Beppo
Camacho's Cantina
Cafe Tu Tu Tango
Jody Maroni's Sausage Kingdom
Karl Strauss Brewery Garden
KFC / Pizza Hut
Panda Express
Shanghai and Mein (Closed for redevelopment)
Starbucks Coffee
Subway
Tommy's
Tony Roma's
More information on CityWalk dining
Other Entertainment at CityWalk
As well as eating and shopping, there are various entertainment venues at CityWalk.
Current
Rhumba Room (latin dancing)
Sky Venture
Bowling
Past
Universal Chamber of Chills (October / November 1996)
Showscan 'Emaginator' (November 1993 - ?)
NASCAR Speedway - Virtual NASCAR Speedway racing on CityWalk.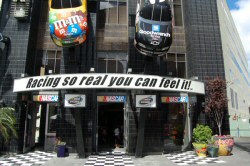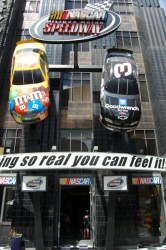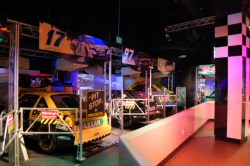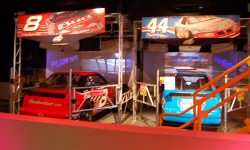 More information:
Back to...
Leave Comments
Content and photos (c) theStudioTour.com except where noted.