Universal Studios Hollywood - Backlot
Kramer Park
Open square area of grass surrounded by city buildings, featured in the finale of It's A Mad Mad Mad Mad World (1963)
It was named Kramer Park after the director of that movie, Stanley Kramer.
Kramer Park Photo Gallery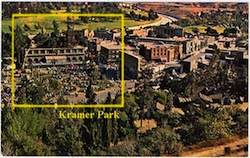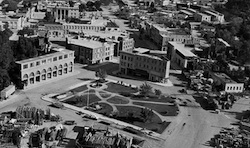 When the site was to be cleared, parts of the sets around the square were moved to other parts of the backlot - some to the European Village set, and some to the end of New York Street. Those were destroyed in the 1967 fire, and the rest in the 1990 fire.
The site of the park had become the '454 tram storage garage' by 1965.
The small building to the right of the photo with 5 windows facing the camera was the former 'Staff Cafe' on Laemmle Blvd in the earliest days of Universal City.
Courthouse Square can be seen in the upper right of the photo.
Thanks to universalstonecutter for research
Leave Comments
Back to...