Universal Studios Hollywood - Backlot
Square of Warriors aka Spartacus Square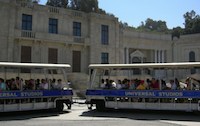 Named after the 1960 Stanley Kubrick epic, this Square is just adjacent to the Little Europe sets.
The original sets were destroyed in the 1987 backlot fire. The current sets are built to the same designs.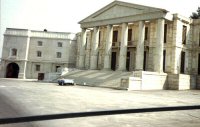 The area is now named after The Scorpion King where it portrayed The Square of Warriors.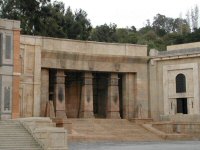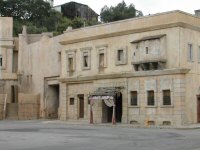 The sets can be extended vertically through the use of matte paintings. Talented artists "fill-in" the rest of the massive Roman structures by painting on glass, which is then placed between the set and the camera. The highly detailed paintings became part of the set in the camera, requiring no costly optical special effects.
Opposite the main Spartacus sets there's an area of Embassy buildings that have featured in a number of productions



Seen on Screen: Universal Studios Hollywood [Square of Warriors]
Title
Released
Director
IMDB
Spartacus [Feature Film]
1960
Stanley Kubrick
The Square of Warriors (formerly known as Spartacus Square) was designed and built for this movie. Laurence Olivier addresses the Roman soldiers from the Roman Senate steps. The senate interiors were shot on Stage 06. Stage 12 was also used.
Thoroughly Modern Millie [Feature Film]
1967
George Roy Hill
Stage 12 (Muzzy Estate), Stage 22, Stage 27, Stage 28 were the soundstages used. The Paris Opera House sets on Stage 28 were used for the theatre sequence. Many exterior scenes were shot on New York Street and Brownstone Street. The Square of Warriors embassy buildings featured as Carol Channing / Muzzy's mansion.
The Blues Brothers [Feature Film]
1980
John Landis
Park Lake (Good ole boys motorhome crashes into lake), New York Street (as Chicago) - car jump stunt, Singapore Lake. The gospel church interior was shot on a set built on the Square of Warriors backlot set. Stage 25 was also used.
History of the World Part I [Feature Film]
1981
Mel Brooks
Park Lake (Red Sea), Square of Warriors (extended by the use of matte paintings to depict Ancient Rome), Little Europe (as France)
Voyagers! [TV Series]
1982-1983
James D. Parriott
Colonial Street, Denver Street, Little Europe, Train Station, Mediterranean Square, Old Mexico, Square of Warriors
Cloak & Dagger [Feature Film]
1984
Richard Franklin
The backlot Square of Warriors set is featured as the foreign embassy that Jack Flack parachutes into at the start of the movie.
Airwolf [TV Series]
1984-1986
Donald P. Bellisario
Colonial Street, Denver Street, Little Europe, New York Street, Six Points Texas, Square of Warriors, Tower of London backlot sets, Stage 14 [helicopter interior mockup], Stage 20 [process shots], Stage 24 [Hawke Cabin set], Stage 27 [The Lair hideout], Stage 28 [process shots]
Murder She Wrote [TV Series]
1984-1996
Various
"Incident on Lot 7" - Season 8, Episode 13 (1992) - Psycho House
"Jessica Behind Bars" - Season 2, Episode 9 (1985) - Square of Warriors / Spartacus Square Embassy building appears as the Prison exterior.
"Hooray for Homicide" - Season 1, Episode 3 (1984) - Front Lot & Studio Tour
Colonial Street, New York Street (as London), Tower of London set (as an amusement park), Little Europe (unknown episodes)
Elm Street (as Industrial Street), Singapore Lake (Jaws Lake) appeared in the opening titles as Cabot Cove, Maine.
"To Kill A Legend" (Season 11 Episode 3, October 1994) Circle Drive on Colonial Street is featured prominently as the location for the battle re-enactment. The church is seen in many shots.
"Seal of the Confessional" - Season 6 Episode 2 (1989) - Colonial Street Circle Drive church appears in the opening sequence. Jaws Lake appears as Cabot Cove.
Stage 20 [pilot], Stage 22, Stage 25 (interior Jessica Fletcher's house), Stage 29, the backlot Train Station appeared in one episode.
The Wizard [Feature Film]
1989
Todd Holland
The Square of Warriors features heavily as the location of the finale. Various parts of the studio and theme park are also featured, along with an extended sequence in the old King Kong attraction.
The Shadow [Feature Film]
1994
Russell Mulcahy
Stage 29, Brownstone Street, New York Street, Square of Warriors (Alec Baldwin's mansion)
The Burning Zone [TV Series]
1996-1997
Coleman Luck
New York Street, Square of Warriors, Stage 33, Stage 34
Buddy [Feature Film]
1997
Caroline Thompson
Square of Warriors
Crossing Jordan [TV Series]
2001-2007
Tim Kring
Elm Street, Square of Warriors, Falls Lake (Season 6 Finale), Stage 27, Stage 33, Stage 36, Stage 37, Stage 41, Stage 42, Stage 43, Stage 44
The Scorpion King [Feature Film]
2002
Chuck Russell
Square of Warriors, Stage 28, Stage 29, Stage 41
Princess Diaries 2: Royal Engagement [Feature Film]
2004
Garry Marshall
The streets of Little Europe doubled as Genovia. The Square of Warriors appeared as the exterior of the royal residence. The Train Station also appeared. Interiors were shot on Stage 22, Stage 23, Stage 27 and Stage 36.
---
Back to...