Universal Studios Hollywood
Streetmosphere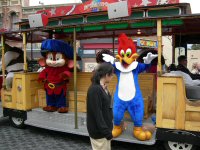 This is Universal's name for the costumed characters and performers that wander around the park adding atmosphere. In recent years, the quantity of characters has increased massively, resulting in loads more photo opportunity for excited children (and adults). This list covers almost all of the characters that have appeared around Universal over the years.
Current Characters
Betty Boop
British Palace Guard
Dino Chasers
Doc Brown (Back to the Future)
Donkey (Shrek)
Fievel (An American Tail)
French Gendarme
Gru (Despicable Me)
Minions
Mummy Guards (stilts)
New York Windows
Street Dance Trash
Transformers - Optimum Prime, Bumblebee, Megatron (stilts)
As many of the street performers are seasonal, all of the above
may not appear on the day you're in the park.
Past Characters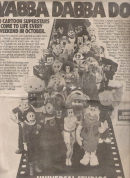 Back to...
Leave Comments