Universal Studios Hollywood
Hotels
There are two hotels at Universal City:
Sheraton Universal (436 guest rooms & suites)
The Hilton Universal (483 guest rooms)
There's also a small motel on the backlot, but despite the guaranteed rooms, we don't recommend you stay there.
The Sheraton Universal opened in 1969 to accommodate the growing number of guests to the Universal City Tour. Prior to it's expansion in 1978 there was a restaurant called "The Four Stages" which had 4 differently-themed rooms. After the remodelling, it was renamed "Telly's" in honour of Telly Savalas (star of TV's Kojak) who, along with his wife and children was a permanent resident in the hotel until his death on January 22 1994. He'd visited the hotel while shooting Kojak on the backlot in the early 1970's, and liked it so much, he moved in permanently.
UPDATE: The Sheraton was acquired in early 2007 by Lowe Enterprises Investors for the sum of $122 million. They plan to invest more than $20 million in the hotel with a top-to-bottom renovation, due to be completed in early 2008.
The Hilton Universal was constructed in 1984 (as the Universal City Hilton) and refurbished in 2000 and has just completed a multi-million dollar refurbishment in 2007. Cafe Sierra offers an award-winning seafood and prime rib buffet and there's also Coffee Corner featuring Starbucks Coffee. All rooms feature incredible views of the Hollywood hills and the surrounding studios.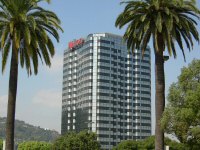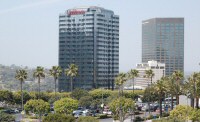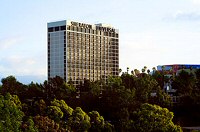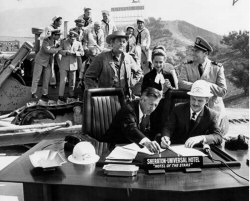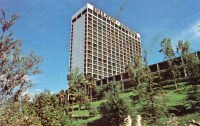 Back to...
Leave Comments
Content and photos (c) theStudioTour.com except where noted.