Universal Studios Hollywood - Backlot
Fires and Storms
Friday September 4th 1987
$2.5-Million Fire Destroys Universal Studios Set, Snarls Freeway Traffic
By Michael Connelly and Jack Jones, Times Staff writers
From The Los Angeles Times, Sat Sept.5 1987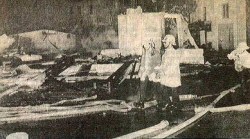 Flames erupted on the back lot "Spartacus" set at Universal Studios in Universal City on Friday night, destroying the three-story structure as well as three adjacent buildings before being knocked down by Los Angeles County and City firefighters.
County fire officers said a bomb threat was telephoned to a nearby set, Studio 44, which was being evacuated at the time the fire broke out in "Spartacus Square", where the 1960 Kirk Douglas movie was filmed.
The "Spartacus" set was not in use, however, and there were no injuries.
"We're trying to determine if the two things (the threat and the fire) are connected," Assistant County Fire Chief Ray Shackelford said soon after the flames were beaten down.
Four buildings were damaged in addition to the four that were destroyed. Shackelford estimated damage at $2.5 million, including structures and equipment.
Studio official Bill Decinces suggested the loss was actually much higher because the figures were based on values 10 years ago. "Any time you have a fire of this size," he said, "it is a major loss."
The fire erupted about 7:40p.m. on the 60- by 200-foot set in the center of the studio's old European Village section. It was reported contained a half hour later.
Arson investigators were dispatched quickly. "We are trying to figure out whether there was or was not a bomb," said Sheriff's Sgt. John Andrews.
County firefighter Mark Wilson reported there apparently had been the threat of a second bomb or fire later in the evening.
County Fire Department Battallion Chief Gordon Pearson said the bomb reports may have started withe the sound of "popping cans... part of the set." He added, "We won't be able to tell until we get into it."
Studio spokeswoman Joan Bullard said she talked to a high studio official "and he didn't say anything about a bomb."
Studio security supervisor Nicholas de Luca said he was on patrol at the far side of the studio property when "I heard popping sounds. I drove this way. It was already fully involved."
At their height, flames were shooting hundreds of feet into the air, causing problems on the nearby Hollywood Freeway as motorists slowed to gaze.
The fire, however, was some distance from the Universal Amphitheater and cinemas, where evening shows went ahead without interruption.
As heavy layers of smoke covered the area, people working on film projects in other buildings were evacuated hastily.
---
Arson Is Suspected In Universal Studios Fire
Hollywood - Los Angeles County fire investigators said Sept. 8 the blaze which heavily damaged the European Street set at Universal City Studios apparently was set deliberately.
Fire Captain Stan Hook said his team, headed by fire investigator Harry Thy, reported evidence at the gutted set strongly indicated arson.
No incendiary device was found, and there was no indication of multiple starts at the fire scene, but the evidence of arson was turned over to the sheriff's department, Hook related.
The blaze erupted about 7:30 p.m. Sept 4 and took firefighters nearly a half-hour to control. Because so much of the set was dry, old wood and foam rubber, the flames spread rapidly destroying four buildings and damaging several others.
Damage was estimated by Universal officials at $2,500,000.
Although nobody was injured by the fire, the rapid spread of flames and dense smoke forced evacuation of 75 studio employees and nearly 200 others who were watching the taping of a new tv series, "Out Of This World."
---
Additional research by Dennis Dickens
Leave Comments
Back to...