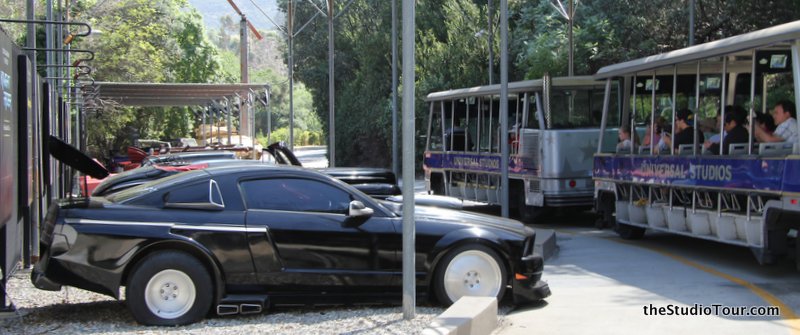 Just before entering the Jurassic Park sets, there's a display of "picture cars" lined up along Greens Road. The cars were moved into position Friday 26th May 2006, and were previously linked thematically to The Fast & Furious Extreme Close-Up attraction, which has now been removed.
Tram On-Board Video – Picture Cars (2007)
Current Vehicle Layout (2021)
FORD MUSTANG SHELBY COBRA GT500KR from the 2008 Knight Rider series. Shown here is the 'Attack mode' version of the car. Conceived by famed car designer Harold Belker and built by Cinema Vehicle Services.This is one of only two built.
FERRARI 308 as seen on Magnum P.I. (a fibreglass shell over a VW chassis)
BIFF's 1946 FORD SUPER DELUXE CONVERTIBLE from Back to the Future
LITESTAR PULSE from Back to the Future II
FORD PROBE from Back to the Future II
EDSEL from Back to the Future II
FRED FLINTSTONES CAR from The Flintstones
BARNEY RUBBLES CAR from The Flintstones
SPORTS CAR from The Flintstones
ORANGE JULIUS' MAZDA RX-7 from 2 Fast 2 Furious
NISSAN SKYLINE from 2 Fast 2 Furious
MERCEDES BENZ W163 SUV from The Lost World: Jurassic Park
GYROSPHERE from Jurassic World
JEEP from Jurassic World
1942 WILLYS MB from Transformers
1988 BEIJING JEEP from Transformers
M2 BRADLEY IFV from Transformers
Previously On Display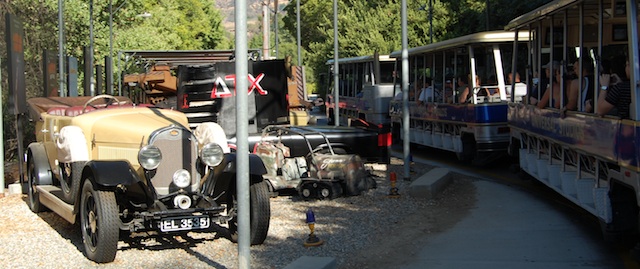 MONTESA HONDA COTA 4RTmotorcycle from The Bourne Ultimatum
DEATHMOBILE (Lincoln Continental) (recreated for the 25th Anniversary of Animal House)
1932 MODEL A FORD seen with the Marx Brothers
MULE as seen in Serenity
DE LOREAN DMC12 from Back to the Future
TOYOTA LANDCRUISER from Land of the Lost
APC from Doomsday
DUSENBERG from The Mummy Returns
"STORMIN' NORMAN GO-KART from The Little Rascals
BLUESMOBILE from The Blues Brothers 2000 [this is a '91 Ford, not the 1974 Dodge featured in The Blues Brothers originally]
1971 CHEVROLET MONTE CARLO from the Fast and the Furious Tokyo Drift
MAZDA RX-8 from the Fast and the Furious Tokyo Drift
NISSAN 350Z from the Fast and the Furious Tokyo Drift
1970 PLYMOUTH ROADRUNNER from Fast & Furious 7
AUSTIN MORRIS MINI 1000 from Mr Bean's Holiday
GLOBOTECH VAN from Small Soldiers
SLAP JACK'S TOYOTA SUPRA from 2 Fast 2 Furious
MITSUBISHI ECLIPSE SPYDER from 2 Fast 2 Furious
BUICK GRAND NATIONAL from Fast & Furious
FLIP CAR from Fast & Furious 6
Also Seen Around the Lot
PEUGEOT 403 from Columbo
Although it's not displayed in the Transportation Department, Columbo's Peugeot 403 car can be seen around the backlot sometimes.
Visitors taking the VIP Experience tour, who visit the massive Prop Warehouse, may get a chance for a closer look at the French car from 1959.
Only 504 of the Cabriolet convertible model were produced in 1959, the year of Columbo's car, so his is a rare model. In "Identity Crisis" he tells the murderer his is one of only three in the country.
The photos here show that at least two of them are at Universal Studios!
More information