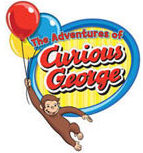 This interactive area opened in March 2008 after replacing the Nickelodeon Blast Zone.
It consisted of three zones:
Curious George Flies Into Space
Consists of a rethemed rocket left behind by the Nickelodeon Blast Zone, and 500 gallon water buckets.
Curious George Goes To The Jungle
Indoor play area which was originally built as the Wild Thornberrys Adventure Temple for the Nickelodeon Blast Zone in 2001.
Curious George Visits The Zoo
Designed for children under six, this was originally the Nick Jr. Backyard part of the Nickelodeon Blast Zone.
Adventures of Curious George – Official Publicity Photos
Official publicity photos from the Universal Studios Hollywood website © 2013 Universal Studios Hollywood
History of The Adventures of Curious George
The play area adjacent to the Universal Amphitheatre, replaced the Warlord Tower and a water feature. After Fievel's Playland was closed in 1997, the Upper Lot was without a childrens play area, so it was much needed. It opened as Nickelodeon Blast Zone in April 2001, and was closed to be rethemed as The Adventures of Curious George in January 2008.
The attraction closed on 3rd September 2013 to make room for the forthcoming Wizarding World of Harry Potter.
Young ones can still enjoy a water play area at Super Silly Fun Land, next to Despicable Me: Minion Mayhem.
Characters
Curious George could often be found nearby, as could Dora the Explorer and Spongebob Squarepants. Although the area is not formally connected to Nickelodeon now, the Nickelodeon Stuff store was still in place until the area closed, so there was still a home for Spongebob and Dora.
Photo Gallery