In reverse chronological order. Scroll down to see the earliest announcements to launch the Wizarding World.
Public Opening Date: April 7th 2016
Unprecedented demand for tickets for the opening day meant that they sold out completely two days in advance.
Some guests started queueing the afternoon before the opening day.
Official Premiere: April 5th 2016
A star-studded opening event took place at 8.45pm on the evening of April 5th.
Universal Studios Hollywood president Larry Kurzweil presided over the proceedings, with chairman and CEO of Universal Parks and Resorts Tom Williams. Chairman and CEO of Warner Bros, Kevin Tsujihara, Vice Chairman of NBC Universal Ron Meyer and Mayor of Los Angeles Eric Garcetti (who demonstrated a disturbing knowledge of Harry Potter terminology!) also spoke.
In attendance from the cast of the motion pictures were Tom Felton (Draco Malfoy), Evanna Lynch (Luna Lovegood), Warwick Davis (Prof. Flitwick), James and Oliver Phelps (Fred and George Weasley), legendary composer John Williams and the LA Philharmonic Orchestra provided a stunning accompaniment to some beautiful projection mapping and fireworks above Hogwarts castle.
Video of John Williams conducting the LA Philharmonic (courtesy ThemeParkConnect.com) (c) Universal Studios Hollywood
Official premiere video including red carpet interviews
Soft Opening / Technical Rehearsal: February 12th 2016
Rehearsals have been continuing intermittently during the weeks following, enabling some lucky guests to get a preview of the World.

Soft-Opening Photo Gallery (courtesy ThemeParkConnect.com)
December 2015 – Opening Date revealed
Alan Gilmore (Art Director of Harry Potter movie series) & Evanna Lynch (actor)
November 2015 – Preview Video – Hogsmeade
June 2015 – Opening Announced as Spring 2016

The Spring 2016 opening was announced in June 2015 at the IPW trade show in Orlando.
Launch Event: 6 December 2011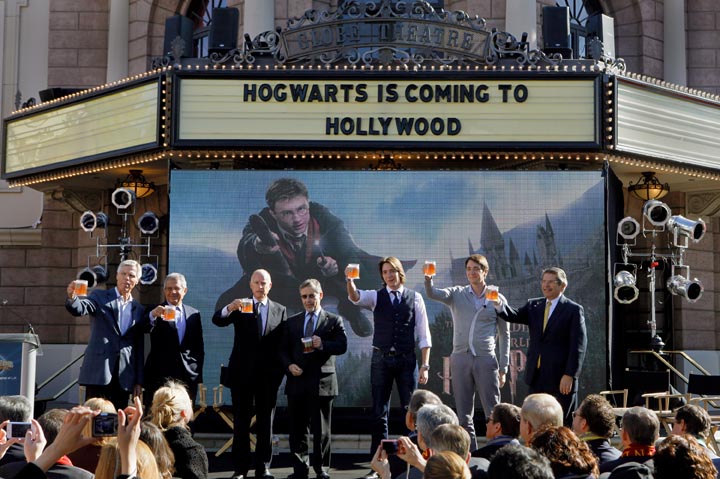 PHOTO ABOVE: (c) Universal Studios. December 6 2011. Pictured L to R – Tom Williams, Chairman and CEO, Universal Parks & Resorts; Ron Meyer, President and COO, Universal Studios; California Governor, Jerry Brown; Barry Meyer, Chairman and CEO, Warner Bros.; James Phelps, portrayed Fred Weasley in the Harry Potter films; Oliver Phelps, portrayed George Weasley in the Harry Potter films; Zev Yaroslavsky, L.A. County Supervisor.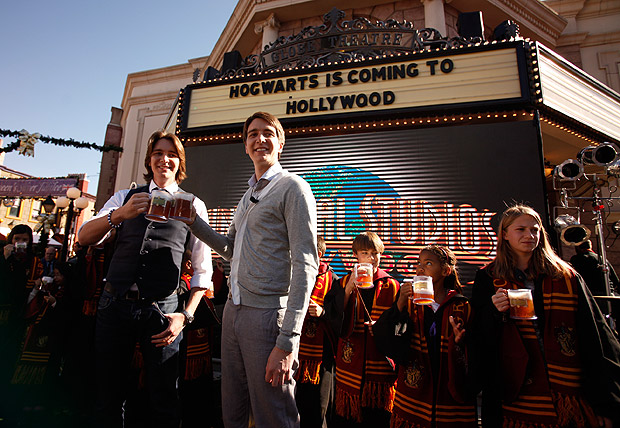 PHOTO ABOVE: From LA Times Blog. Oliver and James Phelps toast the announcement with Butterbeer.