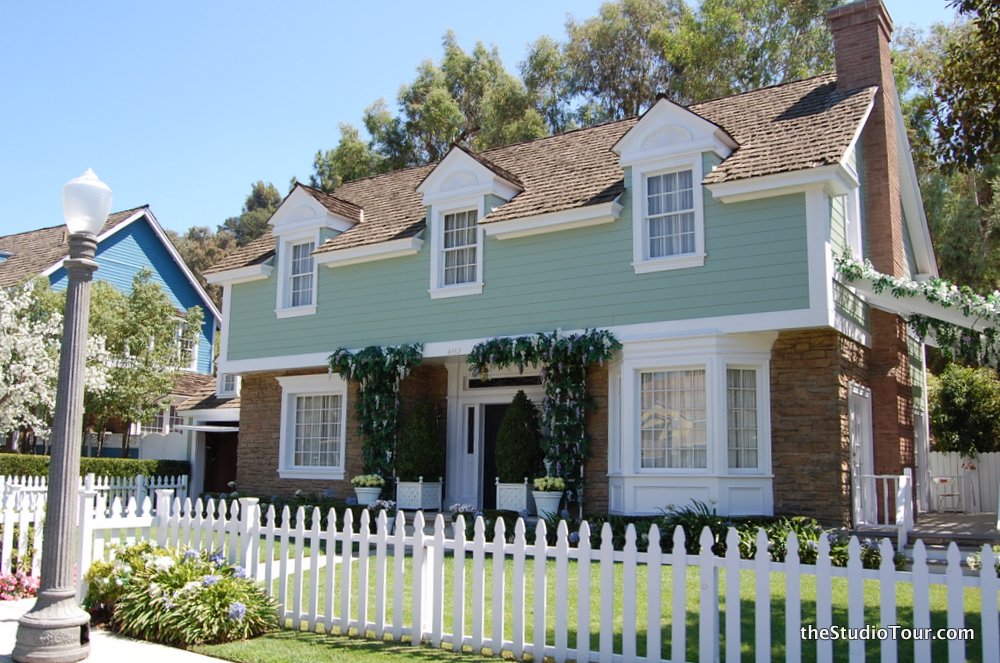 This set is also known as the Paramount House – it was built for the movie "Desperate Hours" (1955) which was produced by Paramount Studios, and was the main exterior house featured in that movie.
When MCA Revue Productions became the new owners of the Universal International backlot – the Paramount house  became the Cleaver home in season three of "Leave it to Beaver" TV Series.
In 1955, the house was located at the intersection between New England Street and Colonial Street of the old River Road, and featured in a number of productions [see full list below]. The Paramount house replaced a house set labeled set #21 seen in movies such as 'Here Come the Nelsons' (1951) and 'Any Body Seen My Gal' (1955).  This set was later moved to Industrial Street set #1.
Then came….
Leave it to Beaver
This classic of American television was on air between 1957 and 1963, giving the viewers an insight into the wholesome lives of Theodore 'Beaver' Cleaver, his brother Wally and his parents Ward and June.
The show was shot on Stage 17 at Universal between 1959 and 1963 (it's first 2 years from 1957 were at Republic Studios). The former 'Paramount House' became an overnight star and became known as the Cleaver House.
After 'Leave it to Beaver'
The house later appeared as the home of Marcus Welby in 'Marcus Welby M.D.' (1969 – 1976).
Still the Beaver (1985 – 1989)
This show reunited the original cast and showed how they may have ended up. It was in production at Universal between 1985 and 1988. The last season was shot at the still under construction Universal Studios Florida. Production on the Tom Hanks comedy 'The 'Burbs' began on Colonial Street at Universal Studios Hollywood in the summer of 1988, which needed to remove the Cleaver house from the street. It's not known if this was the only reason for the move to Florida.
Photo Gallery – Current house on Colonial Street
This house currently features as '4352 Wisteria Lane' on Desperate Housewives, and was originally built for the 1996 'Leave It To Beaver' movie. It's been on Colonial Street ever since.
Photo Gallery – Old 'Leave it to Beaver' house
Old Paramount House above Falls Lake
Seen on Screen: Universal Studios Hollywood [Cleaver]
Title
Released
Director
IMDB
All That Heaven Allows [Feature Film]
1955
Douglas Sirk
The set for Rock Hudson's character Ron Kirby's home was built on the backlot next to old Falls Lake, and was known as Ron's Barn when it was moved to Colonial Street. It's now known as the Hardy Boys house. The Cleaver house was also featured.
The Desperate Hours [Feature Film]
1955
William Wyler
Colonial Street on the Universal backlot. The Cleaver House set on Colonial Street (then known as Paramount House) was built for this movie. Other sets featured: Delta House.
Alfred Hitchcock Presents [TV Series]
1955-1962
Colonial Street (Cleaver House featured in episode Bang! You're Dead)
Never Say Goodbye [Feature Film]
1956
Jerry Hopper
Colonial Street (Cleaver House)
Leave It To Beaver [TV Series]
1957 - 1963
Various
Some scenes were shot on Stage 30, which was demolished in 2010. Stage 17 was also used. Exteriors for seasons 3-6 were shot on Colonial Street, using what became known as the Cleaver House. The Munster House was also seen.
The Shaggy Dog [Feature Film]
1959
Charles Barton
Colonial Street (Harvey House and Cleaver House)
Arrest and Trial [TV Series]
1963-1964
Colonial Street (Cleaver House)
Send Me No Flowers [Feature Film]
1964
Norman Jewison
Colonial Street (Cleaver House)
Adam-12 / Adam 12 [TV Series]
1968-1975
Robert A. Cinader, Jack Webb
Backlot Apartments set was featured, along with Colonial Street (Harvey House, Cleaver House, Cromwell House).
Rod Serling's Night Gallery [TV Series]
1969-1973
Colonial Street (including Cleaver House)
Marcus Welby, M.D. [TV Series]
1969-1976
David Victor
Stage 23, Stage 25, Stage 41, Colonial Street backlot set (Cleaver House)
Emergency! [TV Series]
1972-1979
Harold Jack Bloom, Robert A. Cinader
Apartments, Colonial Street (including Cleaver House), Stage 23, Stage 30, Stage 33, Stage 41, Falls Lake (Season 2 Ep3)
Still the Beaver [TV Series]
1983-1989
Colonial Street (the Cleaver house), Courthouse Square (Mayfield town square)
Airwolf [TV Series]
1984-1986
Donald P. Bellisario
Colonial Street (Cleaver House), Colonial Street Church, Denver Street, Little Europe, New York Street, Six Points Texas, Square of Warriors, Tower of London backlot sets, Stage 14 [helicopter interior mockup], Stage 20 [process shots], Stage 24 [Hawke Cabin set], Stage 27 [The Lair hideout], Stage 28 [process shots]
Desperate Housewives [TV Series]
2004 - 2012
Marc Cherry
Colonial Street and Elm Street as well as Stage 01 [production of season 3 started on Stage 1 then moved to other stages including larger Stage 41], Stage 03, Stage 04, Stage 05. In Season 1 Episode 18 the Log Cabin appeared as Camp Hennessey. Colonial Street sets featured: Delta House, Munster House, Harvey House, Hardy House, Dana House, Burbs House, Providence House, Cleaver House
American Housewife [TV Series]
2016
Sarah Dunn
Colonial Street, Cleaver House
---