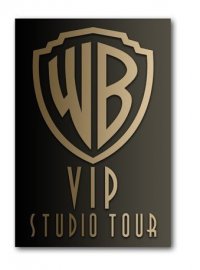 Official website: https://www.wbstudiotour.com
The excellent VIP tour at Warner Bros provides a great opportunity for fans of WB TV shows and movies to see where the magic happens. Every corner of the 110 acre site is covered in the extensive 2 hour 25 minute tour. It begins with a short compilation of clips from Warner Bros movies, classic and new.
As well as the 'regular' VIP tour, there's also a Deluxe VIP Tour available, which lasts 5 hours and includes lunch. This tour is obviously more expensive but allows for much greater access and more depth from your tour guide.
VIP Tour Official Photos
VIP Tour Photos
The WB Transportation Department was originally housed in a small room, which was theatrically lit, and very impressive, but very small.
By 2013, it had moved to a larger warehouse, adjacent to the transportation workshop. When I visited, the Batman vehicles were being moved around, and we actually saw the 'Tumbler' being driven!
VIP Tour Museum
Opened in 1996, this museum is a memorable stop on the VIP tour. Although you'll only have a short time in the museum, it's packed with artefacts from Warner Bros movies going back to the early days of the studio.
The upper floor of the museum is a must-see for younger visitors as it's full of props and costumes from the Harry Potter series.
Unfortunately photography is not allowed in the museum.
VIP Tour 'Friends' Set
The Central Perk coffee shop set from Friends has been preserved and repositioned in the Warner Bros Prop Warehouse for VIP Guests to visit (and try out the sofa).