Above: Colonial Street as seen in 2003 (from 'Ride the Movies' promotional video)
The Colonial Mansion, Church and School buildings seen in the video were removed to accommodate Desperate Housewives in 2005.
One of the most popular places to shoot on the backlot, Colonial Street has a long history. The location is now more commonly known as Wisteria Lane.
Production ended on the 8-year run of Desperate Housewives in April 2012. As of May 2012, the Colonial Street area is having a makeover to get it back to a more generic neighbourhood so it can once again being appearin in a number of shows and productions with no echoes of Wisteria.
When the show was in production, the Studio Tour trams rarely accessed the street during the week as it was in constant use, so real fans had to visit on weekends or occasionally on rainy days to drive down the street.
May 2012: The street has been resurfaced, and a lot of white fencing (and wisteria) has been removed.
> List of productions on Colonial Street
Attraction Video introducing Colonial Street
(NB: Animal House was NOT shot on Colonial Street, but Delta House (a short-lived TV series follow-up), was).

Current Properties on Colonial Street
Click on a building or photo below to find out more about each building on Colonial Street (in order looking out of the left side of the tram as it goes up and then back down the street).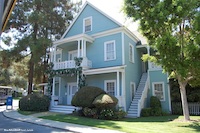 Delta House / Keller House
The first house on Colonial Street on the left, this was the home of Mitzi Kinsky (formerly Ida Greenberg) on Desperate Housewives.
Known as: 4347 Wisteria Lane / Delta House / Lucas Tanner House / Keller House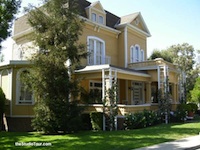 Allison / Harvey Home
The second house was the home of the Dowd family in the classic 1950 movie 'Harvey'.
It wasthe home of Gabrielle Solis (2003 – 2012)) and Carlos Solis (2003 – 2006 and 2008 – 2012) as 4349 Wisteria Lane.
Known as: 4349 Wisteria Lane/Harvey House / Allison Home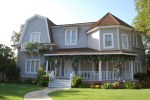 Munster House
Famous as the original home of The Munsters, this property was remodelled to look less spooky for Desperate Housewives, where it was the home of the Mullin family (?-2005), Betty Applewhite (2005–2006), Alma Hodge (2007) and the Hunter/McDermott family (2007–2012)
Known as: 1313 Mockingbird Lane / 4351 Wisteria Lane / Maxim House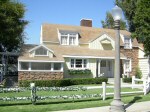 Hardy Boys
4353 Wisteria Lane / Hardy Boys / Johnson Home / Ron's Barn
This was the home of Susan Mayer (1992–2012) [portrayed by Teri Hatcher] on Desperate Housewives.
All That Heaven Allows 1955 – The Brass Bottle 1964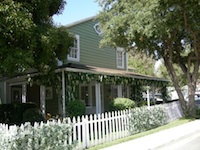 Thrill of it All
Originally named 'Dana Home' after the family of Deanna Durbin in 1941's 'Nice Girl'.
Bedtime for Bonzo 1951
The Thrill of it All 1963
This was 4355 Wisteria Lane, the home of the Scavo family (1998–2012) on Desperate Housewives.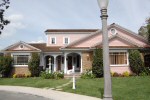 Edie's House
This property is a fully practical set and was built especially for Desperate Housewives Season 2 for the character Edie Britt. It replaced the church which was formerly at the end of Colonial Street on Circle Drive. Edie has now moved out and it was occupled by Renee Perry (2010 – 2012) until production ended.
4362 Wisteria Lane.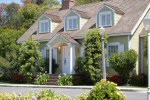 Desperate Housewives House (light green)
This property was built for Desperate Housewives and replaced the school house on Circle Drive at the end of Colonial Street.
4360 Wisteria Lane
This house wasn't regularly featured in Desperate Housewives.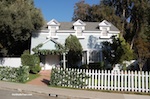 4358 Wisteria Lane
Karen McCluskey (2004–present)
The house was rebuilt following the tornado in Desperate Housewives, and is now a fully practical set with first and second floor interior.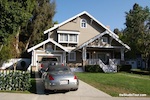 4356 Wisteria Lane/ Mikes House / The 'Burbs Walters House
previously: Walters House (Summer 1988)
previously: Hubbard House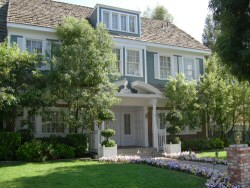 Providence House / Klopek House
Built for The 'Burbs it was remodelled into a different property for Providence. It can now be seen in Desperate Housewives.
Providence House / Klopek House (Summer 1988)
4354 Wisteria Lane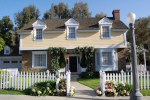 Leave It To Beaver House
Built for the 1996 Leave it to Beaver movie, this house replaces an almost identical, older property which was known as the Paramount House (it was originally built for Desperate Hours 1955) and was best known as the home of the Cleaver family from Leave It To Beaver.
The 1955 house is located in a remote place on the backlot and is not visible from the Studio Tour tram.
On Desperate Housewives, it was 4352 Wisteria Lane; the home of the Young family (1990–2006), Shepherd family (2006) and Bolen family (2009)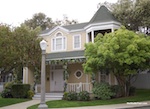 Cromwell House – One Desire 1955
Dragnet / The Car House
4350 Wisteria Lane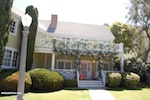 Nancy Drew House
4348 Wisteria Lane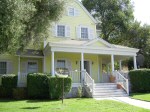 Corner House / Matlock House / Deanna Durbin House
4346 Wisteria Lane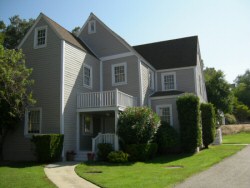 House of Seven Gables
4344 Wisteria Lane

Past Properties on Colonial Street
Vintage Colonial Street / River Road
See also