also known as:
Pickford-Fairbanks Studios,
Pickfair Studios,
United Artists Studios
Samuel Goldwyn Studios
Warner Hollywood
Now known simply as The Lot this studio was formerly a sister studio of Warner Bros at Burbank.
It can be found next door to the Formosa Cafe at 7200 Santa Monica Boulevard in West Hollywood, CA.
In April 2012 the current owners of The Lot ('CIM') began demolition of some of the historic buildings used by Mary Pickford, Douglas Fairbanks, and countless movie stars, writers, directors and technicians.
The first to go was the Pickford Building, on 3rd April 2012.
> Facebook group "Save the Pickfair Studio"
> Save the Pickfair Studio website
> LA Conservancy article about the demolition
History
1917/18
Hampton Studios (founded by Jesse Durham Hampton) begins construction at Santa Monica Blvd and North Formosa Avenue.
1919
United Artists is formed by Charlie Chaplin, Mary Pickford, Douglas Fairbanks and D.W.Griffith.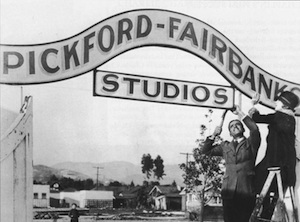 1920
January – Hampton Studios opens a new studio to house their growing production company as they expand from their former home on Sunset Boulevard (the current home of KCET Studio).
1922
Mary Pickford and Douglas Fairbanks buy the 18-acre studio property and name it Pickford-Fairbanks Studios in their honor.
1924
Samuel Goldwyn leaves MGM and forms his own company, renting space at the Pickford-Fairbanks studio.
1927
Pickford Building is built on the site. (This building was demolished in April 2012).
1927/1928
Charlie Chaplin moves from his own studio as he co-founds United Artists with Pickford, Fairbanks and D.W.Griffith.
The studio is renamed United Artists Studio.
1932
Goldwyn Building is constructed (used for sound editing). The building was demolished in April 2012.
1933
Darryl Zanuck and Joseph Sheak bring 20th Century Pictures to Pickford-Fairbanks Studio until it merges with Fox Film Corporation two years later.
1936
Pickford Building is re-modelled.
1939/1940
Samuel Goldwyn left United Artists. The lot was renamed Samuel Goldwyn Studios. This name change resulted in the start of a lengthy court battle with Mary Pickford over control of the studio.
1955
After fighting in court for many years, Samuel Goldwyn teamed with James Mulvey to outbid Mary Pickford at an auction, resulting in him acquiring full control of the studio. Pickford was devastated by the loss of her studio.
Kevin Brownlow's book 'Mary Pickford Rediscovered' recounts how after the sale of the studio she would drive up to the gates at 3am, the guards would let her in, she'd go center on a soundstage with a bottle of wine and drink and drink…and cry and cry. Soon after Mary became a recluse until her death in 1979.
1974
Samuel Goldwyn dies and the studio is transferred to his widow, Frances.
1976
Frances Goldwyn dies and the studio is bequeathed to the Motion Picture and Television Fund.
1980
The studio is sold to Warner Bros and renamed Warner Hollywood Studios (at the request of the Goldwyn Company), acting as an 11 acre sister studio to Warner Bros in Burbank.
1999
Warner Bros sold the studio to BA Studios, managed by Skye Partners, who renamed it 'The Lot' – a private studio for rental to any production company. It consists of 7 soundstages.
According to the Save the Pickfair Studios website, Skye Partners wanted to demolish the historic buildings on the property, replacing them with 'ugly cube structures'. Hollywood Heritage (in the shape of Robert Hudelman) succeeded in negotiating them out of the idea.
2012 April
Current owners of The Lot, CIM, begin demolition of 'aging wooden office buildings and sound-dubbing stages' to replace them with glass and steel structures.
The first building to go is the Pickford Building (1927). The Writers' Building, Fairbanks Building and Editorial Buildings will follow, along with the long line of production offices that line Santa Monica Boulevard.
The Goldwyn Building (1932) was next to go, on 12th – 17th April.
Facilities at Warner Hollywood / The Lot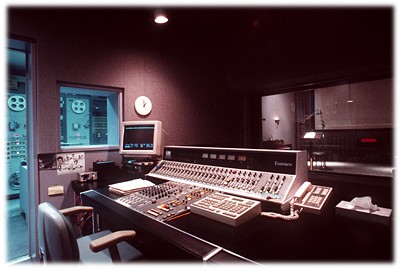 The world-class stages of Warner Hollywood's Goldwyn Sound Facility are known throughout the industry for their technical excellence and outstanding personnel. The work completed in this facility has garnered numerous Academy Award nominations and several Oscars. In addition to the Re-recording, Scoring, ADR stages and Foley stages, we are heavily involved in the Sound Preservation and Archival of old and new titles and are very proud to be leading the new DVD Audio Mastering technology. [from old Warner Hollywood website)
---
Productions shot at The Lot / Warner Hollywood Studios
---

Feature Film (56)

Title
Released
Director
IMDB
Snakes on a Plane
2006
David R. Ellis
Miss Congeniality 2: Armed and Dangerous
2005
John Pasquin
The Majestic
2001
Frank Darabont
The Majestic Theatre was built on the lot.
The Green Mile
1999
Frank Darabont
Wild Bill
1995
Walter Hill
Robin Hood: Men in Tights
1993
Mel Brooks
Basic Instinct
1992
Paul Verhoeven
The Distinguished Gentleman
1992
Jonathan Lynn
Great Santini, The
1979
Lewis John Carlino
Sextette
1978
Ken Hughes
Star Wars: Episode IV - A New Hope
1977
George Lucas
After returning from England, George Lucas reshot some sequences at Samuel Goldwyn Studios.
The Cheyenne Social Club
1970
Gene Kelly
Stalking Moon, The
1968
Robert Mulligan
The Party
1968
Blake Edwards
Frankie and Johnny
1966
Frederick De Cordova
How to Succeed in Business Without Really Trying
1966
David Swift
Irma La Douce
1963
Billy Wilder
Jack the Giant Killer
1962
Nathan Juran
West Side Story
1961
Jerome Robbins, Robert Wise
Apartment, The / The Apartment
1960
Billy Wilder
A Hole in the Head
1959
Frank Capra
Horse Soliders, The
1959
John Ford
Porgy and Bess
1959
Otto Preminger
Some Like It Hot was shooting in an adjacent soundstage, and Sammy Davis Jr., Sidney Poitier and Dorothy Dandridge frequently visited that set.
Some Like It Hot
1959
Billy Wilder
Run Silent Run Deep
1958
Robert Wise
Separate Tables
1958
Delbert Mann
Stage 5
Guys and Dolls
1955
Joseph L. Mankiewicz
Marty
1955
Delbert Mann
High and the Mighty, The
1954
William A. Wellman
Hans Christian Andersen
1952
Charles Vidor
Secret Four, The
1952
Phil Karlson
Unknown World
1951
Terry O. Morse
Red River
1948
Howard Hawks, Arthur Rosson
Sin of Harold Diddlebock, The
1947
Preston Sturges
Best Years of Our Lives, The
1946
William Wyler
Song of the South
1946
Harve Foster, Wilfred Jackson
Stranger, The
1946
Orson Welles
And Then There Were None
1945
René Clair
Outlaw, The
1943
Howard Hughes
The Pride of the Yankees
1942
Sam Wood
Ball of Fire
1941
Howard Hawks, Arthur Rosson
Little Foxes, The
1941
William Wyler
That Hamilton Woman
1941
Alexander Korda
Foreign Correspondent
1940
Alfred Hitchcock
Gone with the Wind
1939
Victor Fleming
Music Score was recorded at United Artists Studios (now The Lot)
Stagecoach
1939
John Ford
Wuthering Heights
1939
William Wyler
Blockade
1938
William Dieterle
Dead End
1937
William Wyler
Stella Dallas
1937
King Vidor
These Three
1936
William Wyler
City Lights
1931
Charles Chaplin
Taming of the Shrew, The
1929
Sam Taylor
The Iron Mask
1929
Allan Dwan
The Thief of Bagdad
1924
Raoul Walsh
Robin Hood
1922
Allan Dwan

---

TV Series (16)

Title
Released
Creator / Showrunner
IMDB
True Blood
2008
Alan Ball
Second season filmed at The Lot. The sets for the show were moved from Hollywood Center Studios, where season one was filmed.
Beverly Hills 90210
1990-2000
Darren Star
Life with Lucy
1986
Bob Carroll Jr., Madelyn Davis
Dynasty
1981
Esther Shapiro, Richard Shapiro
Seasons 3 to 9
Love Boat, The
1977-1986
Land of the Lost
1974-1977
Marty Krofft, Sid Krofft
Barnaby Jones
1973-1980
William Kaye
Sigmund and the Sea Monsters
1973
Dick Darley, Murray Golden
The Night Stalker
1972
John Llewellyn Moxey
Cannon
1971-1976
E. Arthur Kean, Jimmy Sangster
H.R.Pufnstuf
1969
Marty Krofft, Sid Krofft
Invaders, The
1967
Larry Cohen
My Mother The Car
1965-1966
Allan Burns, Chris Hayward
Fugitive, The
1963
Roy Huggins
Gunsmoke
1955
Charles Marquis Warren
Roy Rogers Show, The
1951-1957
George Blair, John English
---