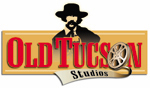 Old Tucson Studios and nearby Mescal have been used since 1938 to shoot hundreds of Western-themed movies and shows. As well as a large backlot area, the Studio has soundstages and a range of shows and attractions for visitors.
Official website: http://www.oldtucson.com/
History of Old Tucson Studios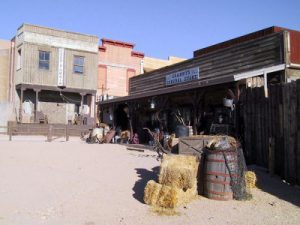 Old Tucson Studios came to life in 1939 when Columbia Pictures chose a Pima County-owned site on which to build a replica of 1860's Tucson for the movie Arizona. The $2.5 million film, starring William Holden and Jean Arthur, set a new standard of realism for Hollywood westerns, initiating the move away from studio backdrop movies to outdoor epics.
Local technicians and carpenters built the town from scratch, erecting more than 50 buildings in 40 days. Descendants of the Tohono O'odham, Arizona's first inhabitants formerly known as the Papago, assisted in the set production. Without the convenience of running water, they made more than 350,000 adobe bricks from the desert dirt to create authentic structures for the film. Many of those structures still stand today.
1995 – Fire (more information to follow)
---
Productions shot at Old Tucson Studios
---
Other Movies at Old Tucson Studios & Mescal
Arizona (1940)
The Bells of St Mary's (1945)
The Last Roundup (1947)
Broken Arrow (1950)
The Last Outpost (1950)
The Broken Star (1956)
3:10 to Yuma (1957)
Gunfight at the OK Corral (1957)
The Lone Ranger and the Lost City of Gold (1957)
Cimarron (1959)
Last Train from Gun Hill (1959)
Rio Bravo (1959)
The Deadly Companions (1961)
Lillies of the Field (1962)
Have Gun Will Travel (1962)
McLintock! (1963)
The Mark of Zorro (1964)
The Outrage (1964)
El Dorado (1967)
Hombre (1967)
The Way West (1967)
Billy Young (1968)
The Mini-Skirt Mob (1968)
Dirth Dingus Magee (1970)
Monte Walsh (1970)
Rio Lobo (1970)
Joe Kidd (1972) [Kansas Street, Old Tucson]
The Life and Times of Judge Roy Bean (1972)
Night of the Lepus (1972)
Pocket Money (1972)
The Man Who Loved Cat Dancing (1973)
Death Wish(1974)
The Trial of Billy Jack (1974)
The Last Hard Men (1976)
The Outlaw Josey Wales (1976)
The New Maverick (1978)
The Villain (1978)
Cactus Jack (1979)
The Frisco Kid(1979)
The Gambler (1979)
Tom Horn (1980)
The Cannonball Run (1981)
Poker Alice (1987)
Young Guns II: Blaze of Glory (1990) [Mexican Plaza]
Nemesis (1992)
Geronimo: An American Legend (1993)
Lightning Jack (1993)
Tombstone (1993) [Mexican Plaza]
The Quick and the Dead (1994)
Wild Wild West(1999)
Ghost Rock (2002)
Seven Mummies (2006)
TV Shows at Old Tucson Studios & Mescal
Have Gun – Will Travel (1957)
Wanted: Dead or Alive (1958)
Bonanza (1966, 1971, 1972)
Death Valley Days (1966-1969)
The High Chaparral (1966 – 1971)
Gunsmoke (1972 – 1974)
Billy the Kid (1989)
The Young Riders (1989 – 1991)
Geronimo (1993)
Buffalo Soldiers (1997)
The Magnificent Seven (1998)
Investigating History (2004)