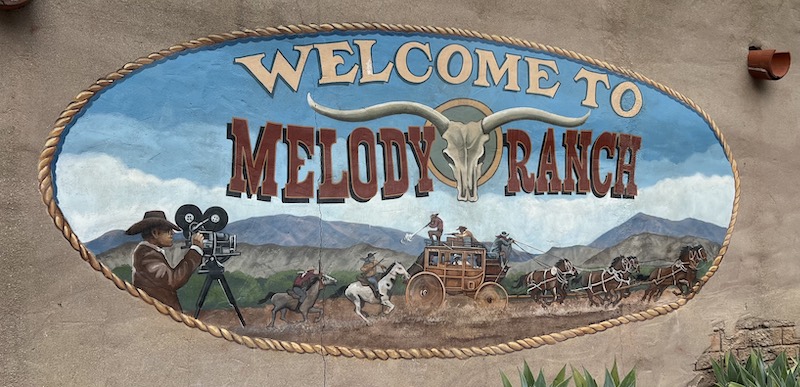 Official website: http://melodyranchstudio.com
Private tours can be organised via our friends at https://newhallywoodtours.com, depending on production schedules.
History
1915 – Placerita Ranch established and was formerly located where the Disney Golden Oak Ranch is now, in Placerita Canyon. It was around 110 acres.
Late 1920s – The movie sets on the Placerita Ranch were moved to Oak Creek Road
1930s-1940s – Ranch leased to Monogram Studios
1934 – Gene Autry shoots his first movie 'Tumbling Tumbleweeds' on the Placerita Ranch sets and fell in love with the place.
1952 – Placerita Ranch bought by Gene Autry and renamed Melody Ranch.
1962 – A massive fire destroys many of the sets, apart from one building which was saved by Elvis Presley and a crew working on a photo shoot for him, when the fire broke out.
December 1990 – The Ranch is bought by the current owners, the Veluzat family, and a process of rebuilding begins, based on photo reference material of the pre-1960s sets.
Church
Saloon Set
Heavily featured in Westworld (HBO). The set backs onto soundstage A.
Jailhouse Set
Original Western Street
Current photos not available due to limitations requested by HBO (Westworlrd)
Train Station
1930s Western Street
Built for Penny Dreadful: City of Angels
Photos coming soon
Soundstages on the lot
Photos coming soon
Additional Information
Museum – A museum of authentic memorabilia has been set up on the ranch.
Gene Autry's horse 'Champion' died at the age of 47 and is buried at Melody Ranch.
Famous Names who've shot movies on the Ranch
Randolph Scott, Gary Cooper, John Wayne, Gene Autry
---
Productions shot at Melody Ranch
---
Further Information