Last updated; 27 October 2018
"You will enter an entire realm filled with iconic Nintendo excitement, gameplay, heroes and villains. All of the adventure, fun and whimsy you experience through a screen will now be all around you—in breathtakingly authentic ways." Nintendo, 2016
First announced in May 2015, this is huge news for Universal theme park fans. The first Nintendo theme park, Super Nintendo World, will open at Universal Studios Japan in time for the 2020 Tokyo Summer Olympics. The Hollywood and Orlando Universal parks will follow. Construction has just begun at Universal Studios Hollywood, and will start shortly at Universal Orlando.
The collaboration between Nintendo and Universal Parks and Resorts will be the next big thing in Universal Parks, and is expected to have a similar effect to the Wizarding World of Harry Potter openings in recent years. It is also designed to give visitors to California and Florida another reason to visit Universal, challenging Disney's Star Wars Land openings.
Nintendo is a huge player in video games, and has been at the top of the game since 1972. Their first foray into video gaming was in a partnership with Magnavox, making light guns for their early consoles. As time went on, they produced their own home video console (Color TV Game 6 and Color TV Game 15 in 1977). In 1981, the hugely popular Donkey Kong was released to arcades, featuring a plumber called Mario, and the eponymous ape.
See the bottom of this page for relevant press releases.
In 2017, a video rendering of the Japan version was released:
Location Speculation (October 2018)
It seems that the Nintendo attractions at Universal Studios Hollywood are now under construction on the Front Lot of the studio, in the area formerly occupied by The Phantom Stage 28 along with a row of 4 demolished soundstages (Stages 22, 23, 24 and 25), used for projects as diverse as To Catch A Thief, Thoroughly Modern Millie, The Sting, Murder She Wrote, Jurassic Park, Pirates of the Caribbean, Jarhead, Superstore (Stages 22 & 23), and the home of the original CSI series for many years.
It was previously thought that the site of the Revenge of the Mummy attraction would be used, along with adjacent underused soundstages.
Although the demolition phase is going well, we're not expecting a finished / open Nintendo Land until 2021. Japan is planned to be the first Nintendo attraction to open, in 2020.
As the area in in Lower Lot of the theme park is part of the film studio, it's unlikely to include any exterior attractions. This will give the designers full control of lighting and audio and will enable a fully immersive set of attractions.
There will be a themed retail / food area, along with at least two attractions. Past experience suggests at least one of these will be a simulator-type ride, but it would be nice to see Universal Creative looking beyond this type of technology. It could be exploring new technological possibilities of virtual reality and/or augmented reality.
It's also expected there will be some presence of Nintendo gaming systems or arcade games at the exit to the attractions.
Attraction Speculation
The area ('land') is believed to be themed around characters featured in the hugely popular Super Mario Kart series of games.
The entrance to the fully themed area will be through a green 'pipe' tunnel, and possibly up an escalator to the second level of the area.
The Mario Kart Experience
This attraction has been confirmed for Super Nintendo World, Japan (see video below, June 2017), and is believed to be the signature attraction that will be featured in the Hollywood and Orlando locations.
This attraction is believed to include augmented reality technology, and to merge this with a physical ride experience, possibly using a vehicle track similar to the Radiator Springs Racers attraction at Cars Land at Disney's California Adventure. A similar system was also used for Test Track at Disney World.
At some point during the ride, a tunnel lined with immersive projections will be used to simulate either an increase in speed, or a move to a different location.
Possible relevant patents:
US20180255285A1 Systems and methods for layered virtual features in an amusement park environment
US10099149B2 Amusement park ride tunnel
US20170364145A1 Systems and methods for generating augmented and virtual reality images
US20170323482A1 Systems and methods for generating stereoscopic, augmented, and virtual reality images
It's also thought another part of the attraction will be an immersive jungle land, based on Donkey Kong. It could feature a mine-cart rollercoaster-type attraction with a 'fake' ride track which makes it seem as though the ride vehicle is leaping across broken track gaps.
Nintendo have confirmed that elements of the attractions will interact with currently available Nintendo portable gaming platforms.
The video below features some great details on the (speculations about) planned attractions:
Name Speculation
It's thought the name for this new themed area could be Super Nintendo World. This is confirmed to be the name for the land at Universal Studios Japan in Osaka, but it's not yet confirmed for the other parks.
Press Links and Releases (latest first)
Super Nintendo World Breaks Ground – June 8th 2017
Universal Studios Japan – Press Release – December 12th 2016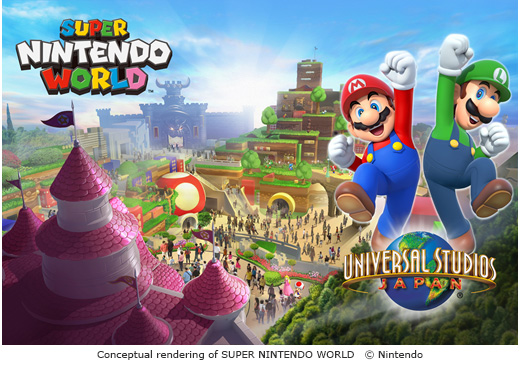 "SUPER NINTENDO WORLD™" is coming to Universal Studios Japan and will be the first such opening in the world*1, featuring globally renowned characters and game worlds from Nintendo. Super Nintendo World is targeted to open in time for the 2020 Tokyo Olympics. While Universal Studios Japan will be the first location to open, Nintendo themed areas are also coming to Orlando and Hollywood as announced by Nintendo and Universal Parks & Resorts on November 29, 2016.
Super Nintendo World will be comprised of expansive and multilevel environments filled with unprecedented, state-of-the-art rides*2, interactive areas, shops and restaurants, all featuring Nintendo's most popular characters and games. Development cost at Universal Studios Japan is currently expected to exceed 50 billion Yen. Super Nintendo World will be developed mainly using the park's current parking area and part of an area designated for future expansion. Katsuhiro Miyamoto, Professor Emeritus of Kansai University estimates that Universal Studios Japan — after opening Super Nintendo World — will bring economic benefits following its opening of approximately 6.2 trillion Yen for the Kansai region, 11.7 trillion Yen for Japan as a whole, and will create approximately 1.1 million jobs in Japan within a decade after opening*3. Universal Studios Japan will introduce the wonder of the world-class, Japan-based entertainment brand of Nintendo not only to Japan but to the world.
Super Nintendo World will feature characters and themes from the "Super Mario" series, which has continued over the years to win the hearts of devoted fans around the world. The attraction area will also feature a variety of other globally popular Nintendo characters. Nintendo characters and the worlds they inhabit will be re-created at the highest level of quality through the strong partnership between Mr. Shigeru Miyamoto, Creative Fellow at Nintendo, and Mark Woodbury, President of Universal Creative, renowned for creative and technical excellence. Super Nintendo World will allow guests to fully immerse themselves and all five senses in the worlds of Nintendo, and is expected to attract guests from Japan and the world over.
*1 Based on an internal survey of Nintendo brand characters and their worlds at other parks and themed areas around the world
*2 Based on company research of the theme parks in operation worldwide in November 2016
*3 Announced by Kansai University (December 12, 2016)
Links
Press Release – Universal Studios Japan & Orlando, November 29 2016
KYOTO, Japan and ORLANDO, Fla., Nov. 29, 2016 — Imagine the fun of stepping into a larger-than-life Nintendo adventure. Gigantic Piranha Plants spring to life. Question blocks, power-ups and more surround you. And Mario and all his friends are there to pull you into a brand-new world.
You will enter an entire realm filled with iconic Nintendo excitement, gameplay, heroes and villains. And it is coming to three Universal theme parks around the globe.
The creative visionaries behind Nintendo's legendary worlds and characters are working together with the creative teams behind Universal's blockbuster theme park attractions. Their goal: to bring the characters, action and adventure of Nintendo video games to life within Universal theme parks. And to do so in new and innovative ways that capture what makes them so special. All of the adventure, fun and whimsy you experience through a screen will now be all around you – in breathtakingly authentic ways.
Nintendo-themed areas are coming to Universal Studios Japan, Universal Orlando Resort and Universal Studios Hollywood.
These will be expansive, immersive and interactive. They will be highly themed and authentic environments filled with multiple attractions, shops and restaurants.
Guests will feel as if they are playing inside their favorite games – this time in real life.
There will be something for everyone – regardless of their age or gaming experience level.
Planning and creative work on these areas is well underway; they will open separately over the next several years.
The new themed areas come as the result of a global partnership between Universal Parks & Resorts and Nintendo – two icons of the entertainment world. Universal theme parks create incredibly popular family entertainment experiences for millions of people based on compelling characters, stories and innovative technology. Nintendo creates remarkable and imaginative games filled with captivating stories and beloved characters.
Each Universal theme park will announce details of its specific Nintendo areas. The first such announcement will come soon.