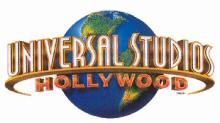 King Kong Model Set
(April 2006 - present)
From April 2006, the Parting of the Red Sea has been taken over to be simply a way of viewing a model ship and scaled-down backdrops from King Kong.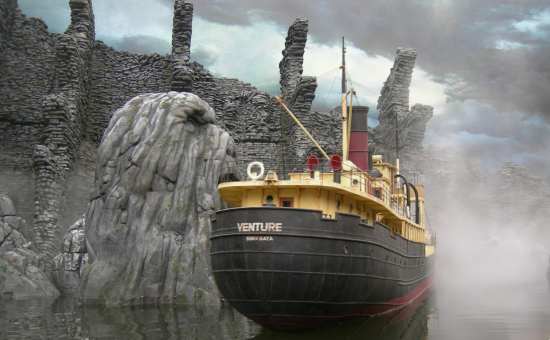 The "Bigature" of the S.S. Venture approaching Skull Island, as featured in Peter Jackson's King Kong and now just in front of the bridge over the Red Sea.
With help from the Oscar®-winning artisans of New Zealand's Weta Workshop Ltd., Studio Tour guests will experience an update of a classic film technique as they pass within a few feet of "King Kong's" S.S. Venture tramp steamer, an exact replica of the film's "bigature" prop.

"Bigatures" are large-scale, highly-detailed miniatures which can be filmed at close range and manipulated in ways not possible with full-size props, digital generation or the more commonly used miniatures. This big-miniature offers the ultimate in realism when combined with traditional and digital effects.

With the movie-making elements properly staged, Studio Tour guests will experience a scene lifted from the blockbuster. Set against a panoramic backdrop of the primordial environs of Skull Island, they will observe the S.S. Venture as it navigates through a dense marine fog. The moment will be further punctuated by the deafening, primal roar of "The Eighth Wonder of the World", Kong.

Behind the scenes, high tech equipment is working to ensure flawless scenic execution. To precisely interpret unpredictable weather climate and output consistent and realistic fog, the creative team at Universal Studios Hollywood created breakthrough technology, linking an atomized water system to a newly installed, on-site weather station. By accurately reading the relative humidity in the air, the creative team was effectively able to produce a high pressure fog system and attain the desired special effect: an impenetrable fog obscured island and a true sense of realism.

Universal Studios Hollywood Press Release, April 2006
Behind the Tram Secrets
The area behind the King Kong Model Ship was the filming location for The Creature from the Black Lagoon. The bridge that's now too dangerous to cross was built for Sweet Charity.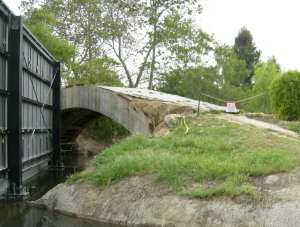 The rear of the King Kong ship model backdrop is now hiding the now stripped-down Sweet Charity bridge that crosses the Red Sea. (Photo April 11 2006)
---
Back to Universal Studios Hollywood Contents