Universal Studios Hollywood - Studio Tour
King Kong (June 14 1986 - June 1 2008)
First roaring into life in front of a terrified public on June 14th 1986, the King Kong attraction at Universal Studios Hollywood started a new era of theme park design.
The 7-ton 30 feet tall Kong figure was the largest and most complex animatronic figure in existence for many years. The sophistication of the attraction broke new ground, and paved the way for the most complex of today's themed entertainments.
A massive backlot fire on 1 June 2008 destroyed the King Kong attraction just short of its' 22nd birthday.
After initial fears Kong would be gone for good, Peter Jackson got on board, and a worthy replacement for the big animatronic ape can now be found on the Studio Tour - King Kong 360 3-D.
The Show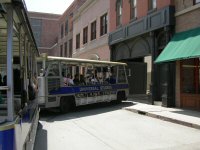 After seeing the delights of New York Street, our guide announces they've built 'an entire city block INSIDE a sound stage' - we should really get our cameras out as there's a "big star" inside...
The tram heads into a soundstage behind a massive pair of doors. Inside, a stunning recreation of a New York suburb has been prepared for filming.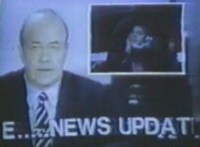 The tram's heading across a large bridge. Suddenly, a TV flickers into life in one of the windows we're passing.
It's a News Report. The anchorman announces "There's an enraged beast loose on the streets of New York".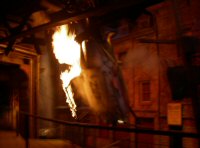 We now see beautiful telecopter reporter Kelly King who's right in the middle of the action above the wreckage of a crashed el-train. She sees a tramload of people down on a bridge in danger. That's US!! We hear the helicopter, and Kelly's voice now cuts through the noise over the helicopter sound system, warning us to get out!. Suddenly, the news report cuts out, and the stricken helicopter falls out of the sky right next to the tram, smashing into some power cables on the way and bursting into flames.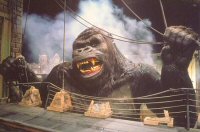 The tram driver decides to get us out of the danger. Wait - there's something blocking the bridge ahead, and there's a Police chopper shooting at it. As we round the corner, we can see Kong! He's got hold of the bridge that we have to cross to escape! The tram driver tries to pass Kong but the beast shakes the bridge and roars at us! The terrified tour guests can't do anything except smell the banana breath and hold on for dear life until the tram safely exits the sound stage.
Show duration: 150 seconds
Specs: The bridge
The sliding bridge was designed by Bill Watkins, and was engineered with teflon plates that slid the 88,000 pound tram back and forth as Kong "rocked" the bridge. The bridge rocked itself - Kong merely held onto it and looked as though he was moving it.
The stage: The soundstage was 26,000 square feet (160 feet x 160 feet)
Cost: $6.5 million (in 1986)
Audio: Technomad loudspeakers
Attraction credits:
Art Director: Peter Alexander
Project Manager: Larry Lester
Kong figure: Bob Gurr (Chief Engineer), Tom Reidenbach, Dave Schwenniger
Kong Animation: Peter Alexander, Craig Barr
Helicopter Crash rig: Bob Gurr, Sequoia Creative
Soundstage design: Henry Bumstead
Many thanks to Peter Alexander at www.totallyfuncompany.com for some information.
Timeline of the attraction
1933 - King Kong (Merian C. Cooper) is released with Willis O'Brien as special effects chief technician.
1976 - King Kong (John Guillermin) is released, and provides the inspiration for this attraction.
1984 - Work starts on the attraction at Landmark Entertainment
October 1985 - Sequoia Creative starts work on the Kong figure.
March 18 1986 - Attraction previews at Universal Studios, Hollywood
June 14th 1986 - Public opening at Universal Studios, Hollywood
Late 1986 - MCA (Universal's parent company) takes control of WOR-TV channel 9 and renames it WWOR-TV.
Feb 1st 1990 - News video footage re-made with WWOR-TV news anchor Rolland Smith at the WWOR-TV Studios in Secaucus, NJ.
1990 - Attraction opens as Kongfrontation at Universal Studios Florida.
September 8, 2002 - Kongfrontation closes in Florida to make room for their version of Revenge of the Mummy dark ride.
2005 - King Kong (Peter Jackson) is released.
June 1 2008 - The entire King Kong attraction destroyed by fire. Only the outer walls of the show building remain. A new attraction will rise from the ashes.
News Reader
The Kong attraction starts with a 'breaking news' story giving an urgent update on the situation, live from the telecopter reporter Kelly King. Two versions of the video have been made. The footage was updated following the opening of the Florida version of the attraction "Kongfrontation"
News Video (1986 - 1990):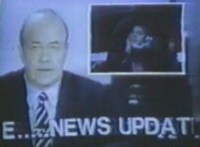 Anchorman (1986 - 1990): Sander Vanocur
"There's an enraged beast loose on the streets of New York. We now go with live coverage from the scene from our telecopter reporter Kelly King - Kelly?"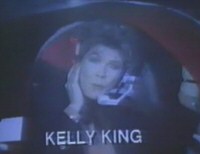 Helicopter reporter: Kelly King
"Thank you Sander. We're now hovering above the wreckage of a crashed El-Train..."

News Video (1990 - present):
Anchorman (1990 - present): Rolland Smith
Helicopter reporter: Kelly King
News Attraction Video from the first part of the show (1990)
Kong Growls and News Report Audio (1990)
Ride-Through Video (1986)
Ride-through of the attraction as it was when it premiered (from Finlay Holiday Video, 1986), (c) Universal Studios Hollywood.
Video (1992) - from A Universe of Cinemagic
Photo Gallery
Video Excerpt from The Wizard (1989)
At the climax of this movie about a video game championship, our heroes try to escape capture by leaping from the Universal Studios Hollywood tram inside the King Kong attraction (which was destroyed by fire 1 June 2008).
Stills from The Wizard
King Kong Hand Photo Opportunity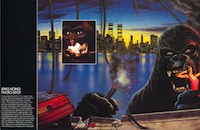 (March 23 1986 - ?1988)
This photo opportunity booth was opened on March 23 1986. Visitors could, for $3 a picture, have a photo of themselves in Kong's hand.
The booth was situated near Castle Theatre.
From 1986 brochure:
"If you dare to confront him again, be sure to visit the King Kong Photo Spot in the Entertainment Center. Located near 'The Adventures of Conan,' this alcove recreates the scene of King Kong's rampage. With a painting of the New York skylikne, our photographer will capture your distress as you try to escape the beast's huge grasp. And the experience is fun for participants and bypassers alike - as you pose with King Kong we also record your struggle with a video camera for all to enjoy on the TV monitors. Afterward, we replay the video for you and present you souvenir photos your friends won't believe!"
Launched on a wave of publicity around the opening of the King Kong attraction on the Studio Tour, this photo opportunity lasted for some years.
Press Pack from opening day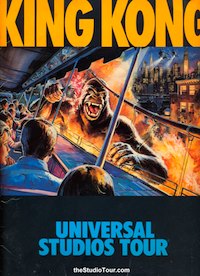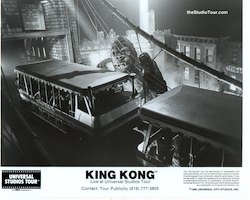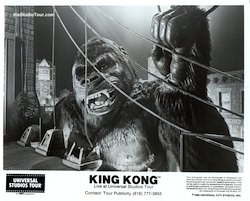 Advertising
| | |
| --- | --- |
| From Los Angeles Times - Sunday September 14, 1986 | |
Articles
Construction Photo Gallery
Stills from "A Universe of Cinemagic" video, 1996
| | | |
| --- | --- | --- |
| Engineering drawings - Front and side elevations of the Kong figure | Eye mechanism | Bob Gurr with his fully working model of Kong |
| Attraction scale model | | |
| | | |
| | | |
Seasonal Kong
Kong celebrates the festive season as only he can - with candy canes!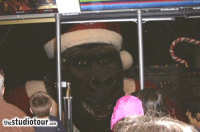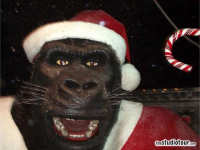 Sound Technology
Primary King Kong system:
6 Pioneer LV-D 6000 laser disk players
6 dBx 2231 EQ's
1 dBx 12x-DS Sub harmonic Synthesizer
1 Urie JBL 5547A EQ's
2 Urie JBL 5549 EQ
3 Urie JBL 5234A crossovers
3 IED 5000 VCA's
1 Ramsa WS-SP2A Sub processor
1 Aphex 120 DA 16 BGW 250D Amplifier
13 BGW 750D Amplifier
29 Technomad WeatherTech Berlin 15/H two-way Install Version Loudspeakers
7 Technomad WeatherTech Chicago 15/12 Install Version Subwoofers
3 Technomad WeatherTech Noho/C two-way coaxial Install Version Loudspeakers

King Kong 'Growl' components:
1 EV MTH 2/64
2 EV MTL 2
1 Deltamax controller
1 EV Crossover
1 Crown Microtech 600 Amplifier
1 Crown Microtech 2400 Amplifier
1 Crown Microtech 3600 Amplifier
See http://www.technomad.com/articles/kong.html for more information on the audio design and use of Technomad loudspeakers.
See also...
Back to...