Universal Studios Hollywood - Studio Tour
Earthquake: The Big One
(Spring 1989 - present)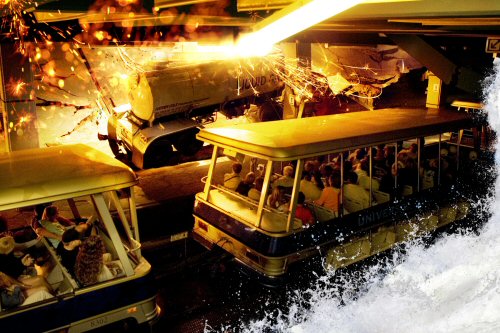 As the Studio Tour tram enters Stage 50 ("the only split level soundstage in the world"), all seems quiet as the crew are on a lunch break. Then the ground starts shaking...
The attraction simulates a large earthquake, rated at 8.3 on the Richter scale. As the tram leaves, the entire attraction resets itself in just 15 seconds ready for the next tram.
The attraction has been closed twice due to real earthquakes: October 17 1989 following the Loma Prieta tremblor in Northern California (7 months after the attraction opened) and on 28th June 1992, resulting in a closure for 24 hours for safety checks.
Photo Gallery
Earthquake: The Big One Photo Gallery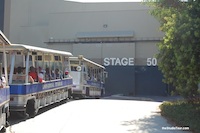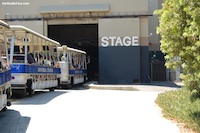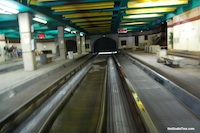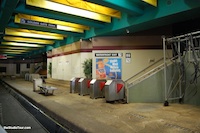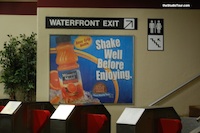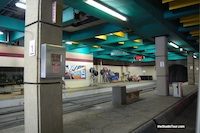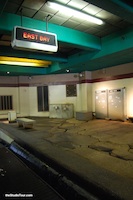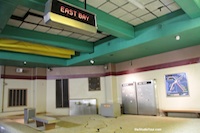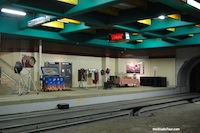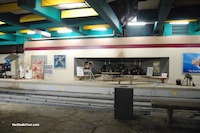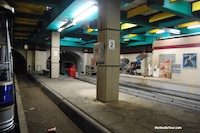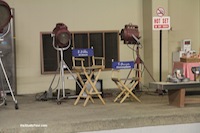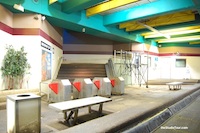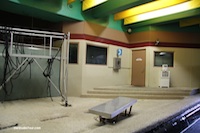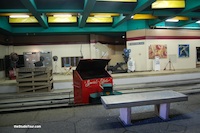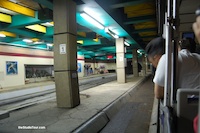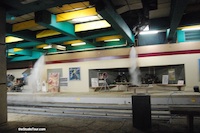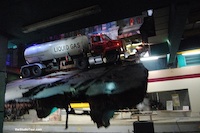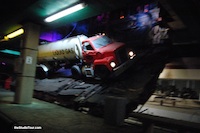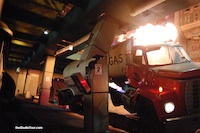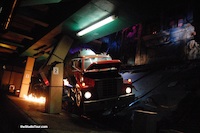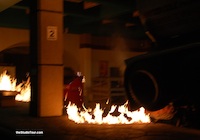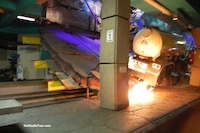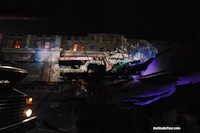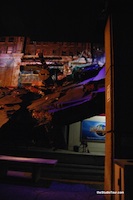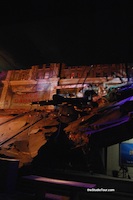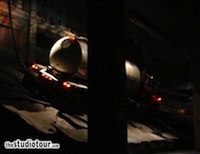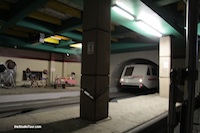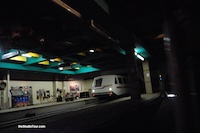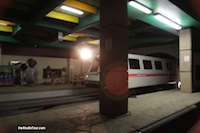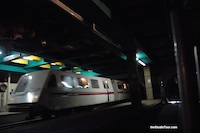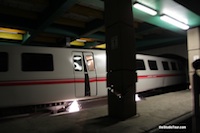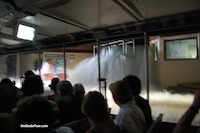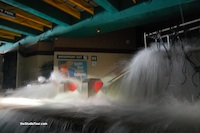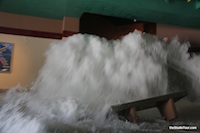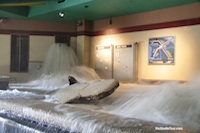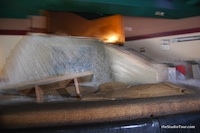 Video
(NB: The video narration refers to Stage 52 - this is incorrect. The attraction is in a building named Stage 50. The attraction never featured live performers, except for the purposes of this video.There are some additional pyrotechnic effects which aren't part of the attraction now).
Seen on Screen
The Earthquake attraction has featured in a small number of films & TV shows.
The Great Los Angeles Earthquake (1990) Short sequence showing the flooding side of the attraction during the aftershock earthquake
Beverly Hills Cop III (1993) Alien Attack ride in the Wonder World theme park.
Seaquest DSV (1993)
Bones (2009) [Earthquake scene - Season 5, Episode 15]
History of the site
Earthquake: The Big One was built in 1988, and replaced the Tower of London set which stood on the spot. Stage 50 was constructed for the attraction - it's not one of Universal's soundstages.
These sketch plans show the relationship between the Tower of London set and the Earthquake show building.The set was demolished around 1988 for construction of the Earthquake attraction.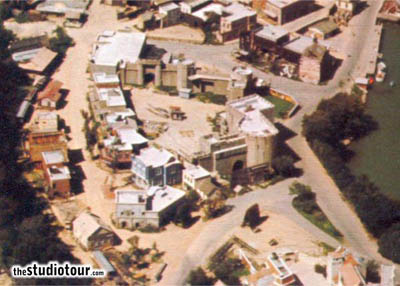 The Tower of London set on the right with Denver Street on the left.
Earthquake: The Big One Publicity Material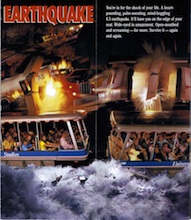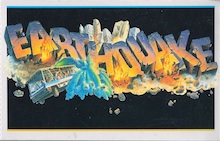 Attraction Credits
Earthquake Bart Universal Studios Tour 1987

Producer: Larry Lester
Technical Coordinator: Nick Drobnis
Project Coordinator: David Codiga, Cindy Pasek
Model Builders: Paul Wolfe, Peter Barnes, Steve Lodwick
Director of Construction: Ernie Capron
Construction Manager: John Knutsen
Project Accountant: Sue Heidenfelder
Architect: Altoon & Porter
Mechanical Engineer: David Chen & Associates
Structural Engineer: Kent Bingham, Hillman Biddison & Associates
Electrical Engineer: Nikolakopolos & Associates
Gas, Flame & Steam: AISCO
Controls: Anitech System
Hydraulic Model: Arctec Offshore
Soils Testing: Leroy Crandall & Associates
Sound Testing: Davy & Associates
Show Water Systems: Dunn Lee Smith & Klein
Civil Engineers: IWA
Underground Tanks (Methane Gas): Lockman & Associates
Animation Effects: Sequoia Creative, Inc.
Sound Systems: Teletechnologies, Inc.
Lighting Design: Theoria Productions
Collapsing Ceiling Effect: Wieland Machine & Effects
Special Effects: Studio
Motion Control: Royal Hydraulics
Back to Universal Studios - Current Studio Tour
Back to...