Universal Studios Hollywood
Stage 747
Although it's currently used as a workshop for building wood and metalwork around the lot, this cavernous soundstage was previously the home of interior mockups of two aircraft (a 707 and a 747) so that films such as the Airport disaster series could film under controlled conditions. The planes were removed around 2002 as the workshop space became more important than disaster movies.
Photo Gallery
Stage 747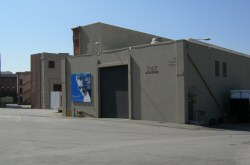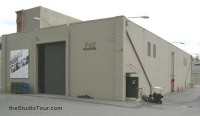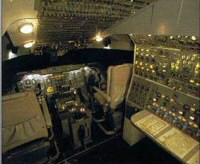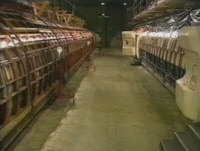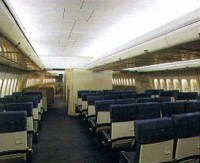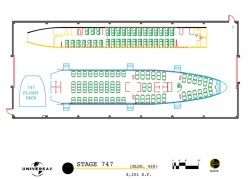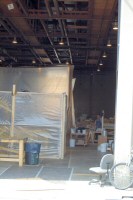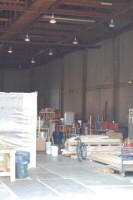 Seen on Screen: Universal Studios Hollywood [Stage 747]
Title
Released
Director
IMDB
Airport 1975 [Feature Film]
1974
Jack Smight
Stage 12, Stage 747
Galactica 1980 [TV Series]
1980
Glen A. Larson, Lou Shaw
Stage 747 (Viper Plane interiors)
Moonlighting [TV Series]
1985 - 1989
Glenn Gordon Caron
Atomic Shakespeare episode was filmed at the Court of Miracles on the Universal backlot. Stage 747 was also used.
Midnight Run [Feature Film]
1988
Martin Brest
Stage 747
Twins [Feature Film]
1988
Ivan Reitman
Stage 747
When Harry Met Sally [Feature Film]
1989
Rob Reiner
Plane sequence shot on Stage 747
Die Hard 2: Die Harder [Feature Film]
1990
Renny Harlin
Stage 27, Stage 747
Kindergarten Cop [Feature Film]
1990
Ivan Reitman
Stage 747 (plane)
Liar Liar [Feature Film]
1997
Tom Shadyac
Stage 23, Stage 25, Stage 747
Mercury Rising [Feature Film]
1998
Harold Becker
Stage 747
The Odd Couple II [Feature Film]
1998
Howard Deutch
Stage 747
The Wedding Singer [Feature Film]
1998
Frank Coraci
Stage 747
A.I. Artificial Intelligence [Feature Film]
2001
Steven Spielberg
Stage 747
Jurassic Park III [Feature Film]
2001
Joe Johnston
Falls Lake, Stage 01, Stage 12 [jungle rain forest set - plane crashes into tree, Tyrannosaurus vs Spinosaurus battle], Stage 18 [plane in flight - interior, dinosaur kennel set], Stage 27 [A pteranodon grabs Eric. The groups watches helplessly as Eric is carried away. Everyone scrambles to get Eric. Grant and Amanda are separated from Paul by a Pteranodon], Stage 28 [Pteranodon drops Eric into the Nest area. Eric hits hatchlings with his knapsack. Paul, in pursuit, slips and slides, lands down to nest. Paul grabs Eric, they fight their way out of the nest.], Stage 29 [rock wall observatory], Stage 44 [rock wall canyon, flooded], Stage 25, Stage 747
---
Studio Specifications
From http://www.filmmakersdestination.com
Stage 747
Building number 468
Area (sq.ft.):8201
Length (feet):139
Width (feet):59
Height (feet-inches):21-2
Floor Material:Wood over concrete sub floor
Pits/Tanks (LxWxH):None
Door Openings (WxH):N17-11x20-3, S15-3x11-11

Back to...