Universal Studios Hollywood - Backlot -
Colonial Street - History

The Colonial Street we know now has been through a number of changes through the years. Universal is a working studio, not a museum, and many of the standing sets have changed and evolved considerably over the years.
1927 - 1950
Uncle Tom's Cabin (1927) was shot on River Road, on the north edge of the backlot, next to the LA River. Many of the house sets on River Road were moved in 1981 to the current site of Colonial Street.
1946 - 1963
The story begins in 1946 when a few houses began construction on Stage 12 for So Goes My Love. After the movie wrapped, the sets were put into storage, until 1950, when the houses (along with other house sets built from stock units) were moved outside to the north edge of the backlot (the former site of River Road) and were christened Colonial Street, after the Colonial Mansion which was the first house on the street.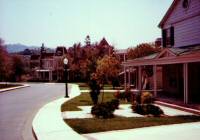 1964 - 1980
With the opening of Universal Studios Hollywood, Colonial Street (along with the Psycho house) was a key attraction. The tour guide listed the 1940s and 1950s movies in which the structures were first used.
1981 - 1987
Colonial Street was moved in 1981 to it's present location from the northern side of the backlot. Some of the buildings that used to be part of Colonial Street were incorporated into Industrial Street, which is now known as Elm Street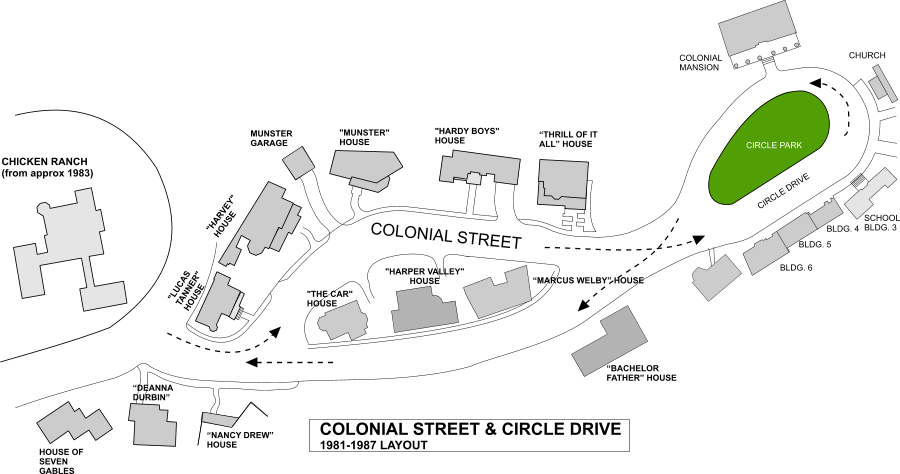 1988
More upheaval to prepare for filming of the Tom Hanks comedy The 'Burbs. The old Leave it to Beaver house is removed to make way for the larger houses required by the production.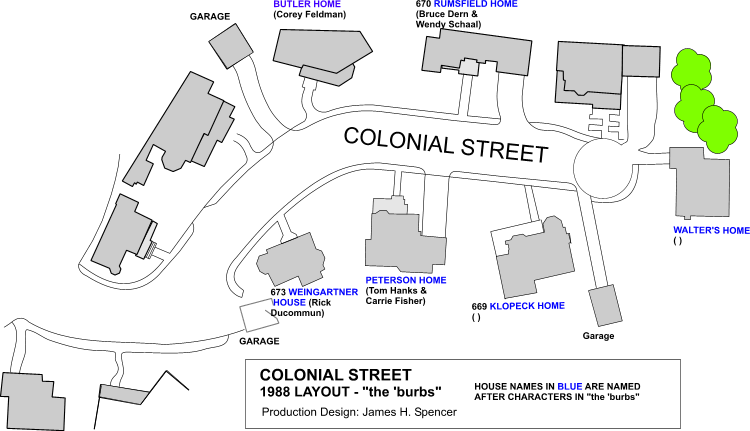 1989 - 1996
Following The 'Burbs, the houses are rearranged again to open up Circle Drive once more.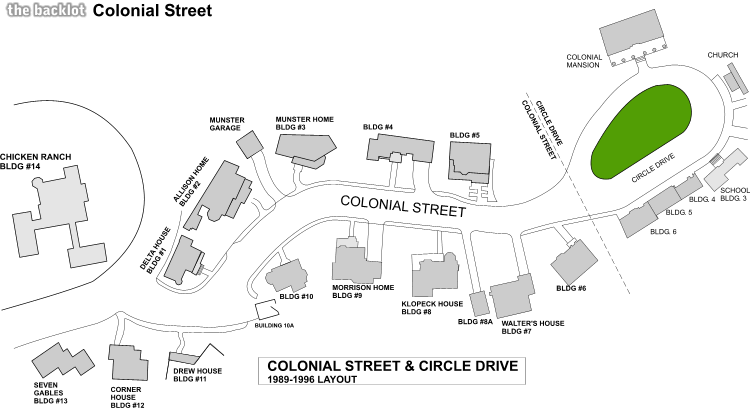 1996 - 2004
A newly built Beaver house reappears on Colonial Street for the 1996 Leave it to Beaver movie, replacing properties built for The 'Burbs. The Providence house also appears in this time period.
2004 - 2012
Colonial Street changed into Wisteria Lane, following the massive success of ABC's Desperate Housewives. As well as a much-needed repaint and refurbishment of the old sets, the Colonial Mansion has now gone, the Munsters House is much less scary and new structures have been built on Circle Drive.
2012 - present
The wisteria has been removed, and Colonial Street continues to be used for filming a wide variety of projects.
Back to...