Universal Studios Hollywood - Backlot -
Colonial Street - The Thrill Of It All house
Originally named 'Dana Home' after the family of Deanna Durbin in 1941's 'Nice Girl'.
Featured in the Ronald Reagan movie 'Bedtime for Bonzo' (1951) and 'The Thrill of it All' (1963) with James Garner and Doris Day.
This is 4355 Wisteria Lane, the home of the Scavo family (1998–present) on Desperate Housewives.
Colonial Street - Dana Home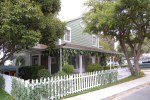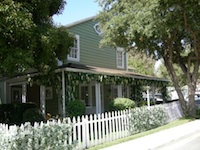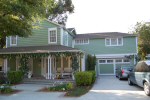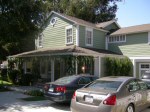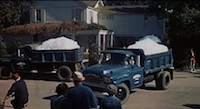 Seen on Screen: Universal Studios Hollywood [Dana]
Title
Released
Director
IMDB
Nice Girl? [Feature Film]
1941
William A. Seiter
Colonial Street - the Dana house is named after Deanna Durbin's character in this movie.
Bedtime for Bonzo [Feature Film]
1951
Frederick De Cordova
The Dana house on Colonial Street was the home of Ronald Reagan's character in this movie.
The Thrill of It All [Feature Film]
1963
Norman Jewison
The Dana house exterior set featured in the movie can still be seen on Colonial Street to this day.
Desperate Housewives [TV Series]
2004 - 2012
Marc Cherry
Colonial Street and Elm Street as well as Stage 01 [production of season 3 started on Stage 1 then moved to other stages including larger Stage 41], Stage 03, Stage 04, Stage 05. In Season 1 Episode 18 the Log Cabin appeared as Camp Hennessey. Colonial Street sets featured: Delta House, Munster House, Harvey House, Hardy House, Dana House, Burbs House, Providence House, Cleaver House
---
Back to...