Universal Studios Hollywood - Backlot -
Blue Parrot Hotel / Monkey Bar / Boragora

from "Harlem Globetrotters On Gilligan's Island" (1981) and "Tales of the Golden Monkey" (1982 - 1983)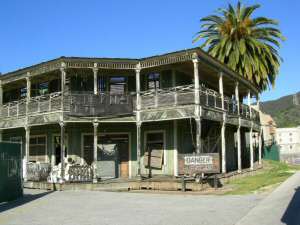 The hotel was originally built for the TV movie "The Harlem Globetrotters on Gilligan's Island" in 1981. The whole area around the Red Sea was transformed in 1982/83 into the island of Boragora for the ABC TV series "Tales of the Golden Monkey". This action-adventure series featured a seaplane called "The Goose" which was moored in Park Lake (The Red Sea) for some time. A dock was built in the lake and cunning cinematography meant that the location appeared to be in Hawaii.
The Blue Parrot Hotel / Monkey Bar set was still standing until December 2009, and was passed just after the tram left The Red Sea / King Kong Model Ship, before passing the Prop Warehouse. The dock and other construction was removed just after production on the show ended in 1983.
After the removal of the main Blue Parrot Hotel set in December 2009, guests now get a clear view of the Edith Head building (Prop Warehouse) after leaving the Red Sea / King Kong Model Ship.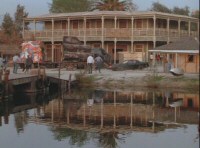 The set can be glimpsed (along with the dock and The Red Sea) in the 1986 "Fright Knight" episode of Knight Rider and is featured prominently in the December 1984 "Revolution #9½" episode of Simon and Simon (Season 4, episode 12).
During production of the TV show, the Monkey Bar set was mounted on wheels so the surrounding "jungle" could be redressed as a different location.
The Monkey Bar was built using the same set design as that used for the Spencer Tracy and Frank Sinatra movie "Devil at Four O'Clock", and some stock footage from that movie was used during the "Distant Sound of Thunder" episode.
See Tales of the Gold Monkey website for more information
Back to...