UNIVERSAL CITY, Calif., April 2 -- Universal Studios Hollywood breathes life into Universal's most notorious celluloid creatures in "Universal's House of Horrors," a new spine-chilling walk-thru attraction at "The Entertainment Capital of L.A." opening today.

Featuring an award-winning line-up of the Studios' 80-year horror film legacy, "Universal's House of Horrors" reacquaints guests with such notorious creatures as Count Dracula, Nosferatu, The Wolf Man, The Mummy, Frankenstein's Monster, the Bride of Frankenstein, the Phantom of the Opera, "Psycho's" Mother Bates, and the zombies of "Dawn of the Dead" and "Land of the Dead." Guests will encounter all of these fearsome figures as they navigate the dark passages of a Gothic castle. The multi-sensory attraction will even use olfactory sensation to produce its effects: the castle has been infused with scents that capture the pungent odors of Egyptian tombs, musty antechambers and decaying life.

The "Universal's House of Horror" adventure begins at the entrance to the castle ruins in Soundstage 13. After being shepherded along the castle's drawbridge, guests will enter a corridor laden with dozens of recognizable authentic movie props and artifacts including such cinematic icons as the original corduroy blazer worn by Anthony Perkins in "Psycho," the Hannibal Lector mask from "Red Dragon," the police uniform worn by Roy Schneider in "Jaws," the books and necklaces from "Skeleton Key," the original "Chucky" doll and the Billy doll from "Dead Silence."

Original horror film posters will also adorn the area as a further introduction to over 20 infamous horror characters that now permanently reside within the "House of Horrors."

Guests will not have long to linger over these genre treasures. Attendants quickly usher them through a dark labyrinth leading into the themed areas that include Dracula's Portal, Nosferatu's rat-infested Catacombs, the Burial Crypt of The Bride of Frankenstein, The Phantom of the Opera's Lair, The Mummy's Tomb, "Chucky's" Good Guy Toy Factory, a "Psycho" Maze of Mirrors, the "Land of the Dead" Morgue, The Wolf Man's Forest, Dr. Frankenstein's Lab and the "Dawn of the Dead" Slaughter House.

Universal Studios introduced the horror genre to U.S. audiences in the early years of motion pictures when such great artists as Boris Karloff, Lon Chaney and Bela Lugosi were under contract to the company. In the decades that have followed, many of the world's greatest movie monsters came "to life" on the studio's historic back lot.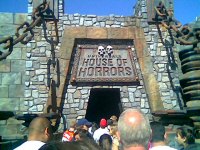 [an error occurred while processing this directive]