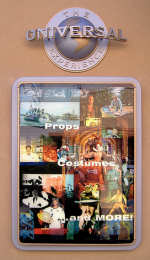 Brand new exhibition going 'Behind the Scenes of Universal Pictures' recently opened in the former Lucy: A Tribute museum.
The exhibition is arranged as follows;
A Fascinating Novelty - collection of early silent movie era cameras and pre-cinema devices (i.e. magic lanterns, etc.).
Bringing the World to Hollywood - display on Universal's history of taking guests behind the scenes of the movie studio...photographs and other memorabilia from 191 to the launch of tour in 1964.
Hollywood's Highest Honor - display of real Oscar statue (currently Best Picture for The Sting) and info on the award.
Bringing Hollywood to the World - display on the marketing, publicity and fan reaction to movies.
Universal On Screen - props, wardrobe and other artifacts from our films...guests can view film clips of behind the scenes trivia on interactive kiosks. Movies/items featured are wardobe from Atonement, props from All Quiet on the Western Front, Book of Who from The Grinch, Steve Carrell's bike and wardrobe from The 40 Year Old Virgin, Kevin Bacon's space suit from Apollo 13, Brendan Fraser's wardrobe and Book of the Dead from The Mummy, Cate Blanchett's dress from Elizabeth: The Golden Age, Gregory Peck's briefcase and glasses from To Kill a Mockingbird, a real Nazi Enigma machine from U-571, The Blues Brothers costumes. Handprop display case features costume jewelry, passports and other handprops from a variety of films.
Universal Behind the Scenes - More interactive video displays. Display includes shark drawings from Jaws, Tiffany animatronic doll from Chucky films, set drawings from 1931 Dracula, miniature moon and space capsule from Apollo 13, matte painting from The Birds and Earthquake, dinosaur maquettes from The Jurassic Park films, Eddie Murphy's prosthetic make up and hands from Nutty Professor films, Lon Chaney Jr. life mask from The Wolf Man, animation maquettes from Curious George, miniature train and Delorean from Back to the Future films, original set plans for The Psycho House. Music in the Movies section has original scores for Psycho, ET, Jurassic Park, Schindler's List, Spartacus, etc.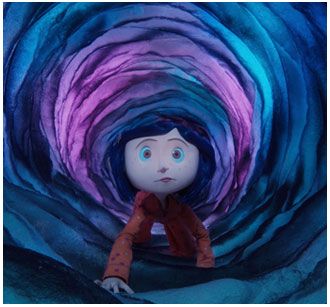 Large Prop Display - currently George Clooney's motorcycle and side car from Leatherheads.
Universal Behind the Scenes - video display showing rare behind the scenes imagery of Universal films, decade by decade...from Hiawatha in 1909 to Hellboy 2 in 2008.
New From Universal: The World of Coraline (December 12 2008 - present)
Universal Studios Hollywood is proud to present an exclusive look at the world of Coraline, a spectacular stop-motion animated adventure from Henry Selick, the visionary director of The Nightmare Before Christmas.
Based on Neil Gaiman's international best selling book, Coraline tells the story of Coraline Jones (voiced by Dakota Fanning), a brave and curious girl who finds a secret door and discovers an alternate version of her life on the other side. Coraline is the first major stop motion animated feature to be shot in 3D. The film will be released in theatres across North America in February, 2009.
The miniature stop-motion animation set pieces and figures in this exhibit are shown courtesy of Henry Selick and the team of talented artists at Laika Entertainment.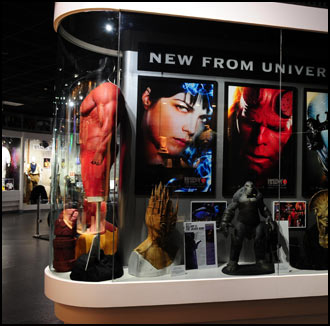 This part of the exhibition originally featured props, creature suits, maquettes and other items from Hellboy 2: The Golden Army. (May to December 2008)