Universal Studios Hollywood
Transformers Base Camp (?July 1985 - ?1986)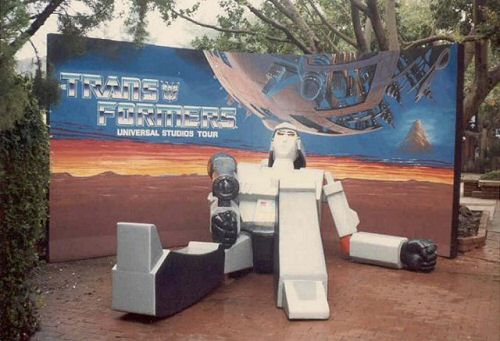 Photo courtesy of www.byyourcommand.net
MEET THE TRANSFORMERS
Imagine the look on your children's faces they meet real, live Transformers in our new base camp.
The Transformers area was built in an area of the upper lot that used to be called the Roman Courtyard. It was basically in between the Woody Woodpecker Theater, and The Warlord Tower. After The Transformers closed, it changed into a Bullwinkle and Rocky show, and The Chipmunks, amongst other things. The area is now part of the entrance to the tram tour.
There was a que line that led to a raised "stage" where tourists would go up, meet, and talk to a Transformer. There were 3 different characters- Jazz, Grimlock, and Starscream.
Submitted by Dale Long, March 2006
Photo Gallery - All photos courtesy of www.byyourcommand.net
Back to...
Leave Comments