Universal Studios Hollywood
Past Streetmosphere - Sherlock Holmes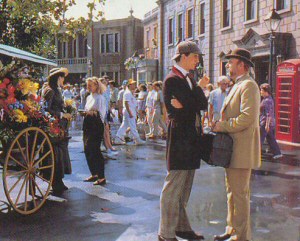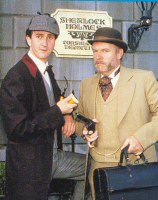 Sherlock Holmes (portrayed by Basil Rathbone) starred in a number of adventure movies for Universal in the 1940s with is bumbling sidekick, Dr Watson (Nigel Bruce) by his side. Although the series started at 20th Century Fox, some of the best movies were made at Universal (see list below).
UNIVERSAL SHERLOCK HOLMES MOVIES
Sherlock Holmes and the Voice of Terror (1942)
Sherlock Holmes and the Secret Weapon (1943)
Sherlock Holmes in Washington (1943)
Sherlock Holmes Faces Death (1943)
The Spider Woman (1944)
The Scarlet Claw (1944)
The Pearl of Death (1944)
Sherlock Holmes and the House of Fear (1945)
The Woman in Green (1945)
Pursuit to Algiers (1945)
Terror by Night (1946)
Dressed to Kill (1946)
Back to...