Universal Studios Hollywood
Starway
(1991 - present)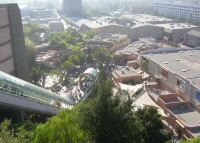 Although not strictly an attraction, the Starway escalator, which joins the Upper Lot ("Entertainment Center") with the Lower Lot ("Studio Center"), provides some amazing views of the Universal backlot.
It opened in 1991 as part of a massive expansion of the park.
Before the Jurassic Park River Adventure ride was added in 1996, the Studio Tour tram departed just under the Starway (see photo, below).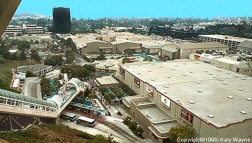 The soundtrack played on the escalators has recently changed. Until June 2006, the soundtrack was provided by the fictional radio station "K-USH", with spoof quizzes featuring Universal soundbytes and soundtrack excerpts, along with announcements about escalator safety. If you rode the Starway more than once a day, it got a little cheesy and familiar. Coming back up after a couple of hours on the lower lot, you invariably heard something you heard on the way down.
K-USH Audio (1997 - 2006)
In June 2006, a new recording debuted featuring NBC's Access Hollywood. This was part of a park-wide increase in NBC branding which included adding Access Hollywood theming to the Studio Tour.
Total length: ¼ mile
Time from Upper Lot to Lower lot: 7-8 minutes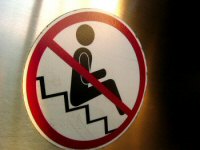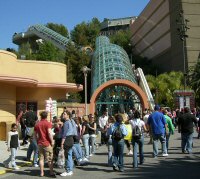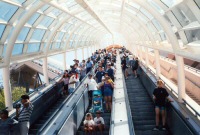 See also Panoramic Photos (using Quicktime VR)
Back to...
Leave Comments