Universal Studios Hollywood
Ma and Pa Kettle Farm (1967 - 197?)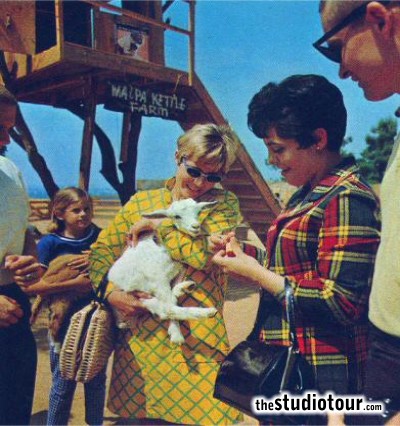 Ma and Pa Kettle Farm pictured in 1968 (from "Inside Universal Studios" 1968)
This area, on the Upper Lot, was introduced around 1967 and featured animals that were used in many Universal productions. Visitors could stroll at their leisure to pet and feed the animals. There were also regularly scheduled shows under the direction of Ray Berwick, famed animal trainer best known for training the hundreds of birds for Alfred Hitchcock's "The Birds".
The farm became known as the Ark Park, and by 1974 there were goats, sheep, pigs, ducks, chickens, geese, turkeys (one extremely mean one named Leroy!!), 2 giant galapagos tortoises known as Number 1 and Number 2, a dwarf cow named Godzilla, mules, irish wolfhounds and even a pony ride. The Ma and Pa Kettle barn was used to store feed for the animals.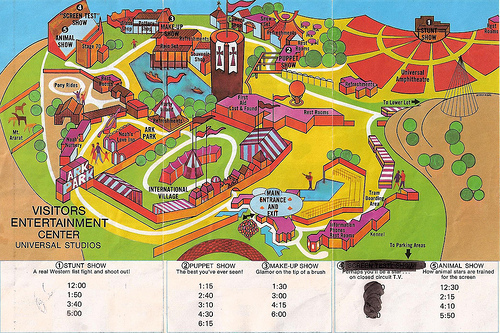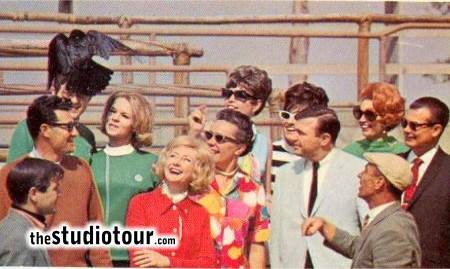 Ray Berwick (bottom right) and one of "The Birds" entertains the crowd at the farm
(from "Inside Universal Studios" 1968)
Back to...
Leave Comments
Content and photos (c) theStudioTour.com except where noted.