Universal Studios Hollywood
King Kong Photo Opportunity

(December 14 2005 - April 2007)
This King Kong Replica was created especially to celebrate the December 5, 2005 World Premiere and took a seat of honor in New York's Times Square.
It was designed by Peter Jackson's WETA Digital Workshop and fabricated by Gentle Giant Studios, located in Burbank.

The figure is over 20-feet tall and weighs in at almost 6,000 pounds.

It was created out of foam, sculpted around an intricate steel framework, hard-coated and finally painted with over 25 gallons of paint.

Over 300 pounds of synthetic hair were used, along with 7,200 yards of thread to create the custom weaves.

It required two 53-foot semi-trailers to tranport it in a "Kong-Voy" from Burbank, CA to New York, NY for the World Premiere, and then back to Universal Studios Hollywood, where it was "air-lifted" into the park on December 14, 2005.
The figure was removed from the Upper Lot around 21 April 2007 and was displayed for a few months with the Fast & Furious Japanese props just after the Red Sea. The old wooden set next to Kong's new home was featured in 'Tales of the Golden Monkey' as, appropriately enough, the Monkey Bar. (see photo, below)
See also King Kong Hand Photo Opportunity (March 1986)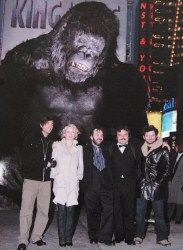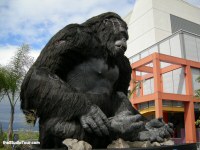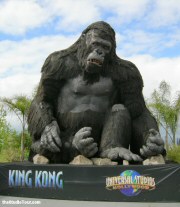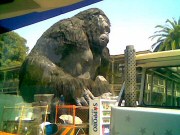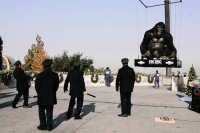 Back to...
Leave Comments
Content and photos (c) theStudioTour.com except where noted.