Universal Studios Hollywood
King Kong Hand Photo Opportunity
(March 23 1986 - ?1988)
This photo opportunity booth was opened on March 23 1986. Visitors could, for $3 a picture, have a photo of themselves in Kong's hand. The booth was situated near Castle Theatre.
From 1986 brochure:
"If you dare to confront him again, be sure to visit the King Kong Photo Spot in the Entertainment Center. Located near 'The Adventures of Conan,' this alcove recreates the scene of King Kong's rampage. With a painting of the New York skylikne, our photographer will capture your distress as you try to escape the beast's huge grasp. And the experience is fun for participants and bypassers alike - as you pose with King Kong we also record your struggle with a video camera for all to enjoy on the TV monitors. Afterward, we replay the video for you and present you souvenir photos your friends won't believe!"
Launched on a wave of publicity around the opening of the King Kong attraction on the Studio Tour, this photo opportunity lasted for some years.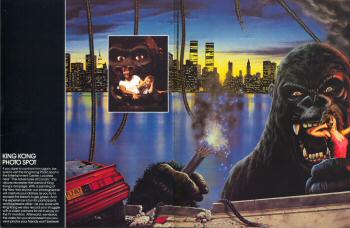 See also King Kong Photo Opportunity (December 2005)
Back to...
Leave Comments
Content and photos (c) theStudioTour.com except where noted.