Universal Studios Hollywood
Food: Womphoppers / Tony Romas / Country Star / Saddle Ranch Chop House
Womphoppers

(1981 - 1986)

Womps

(1986 - 1988)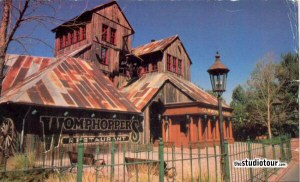 The tour's not over until you've had a taste of Womphopper's BBQ Ribs and Chicken, Salads, Seafood and Sandwiches. Mexican food is our latest attraction. Womphopper's Wagon Works Restaurant will make your day at Universal complete.
By 1986, Womphoppers had been renamed "Womp's Restaurant":
Bring the whole family to enjoy our burgers, sandwiches, salads & complete meals.
Although Womphoppers disappeared many years ago, the building is still in existence, despite some serious retheming. Having been Tony Roma's and a Country Star restaurant, it's now disguised as the
Saddle Ranch Chop House just outside the entrance of the park.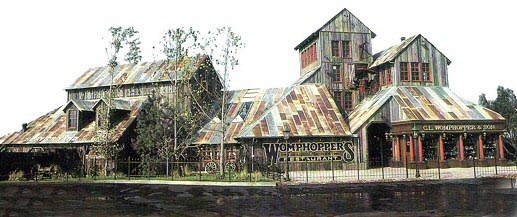 Photo Gallery (1981)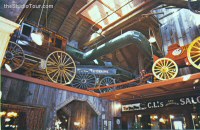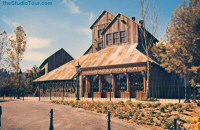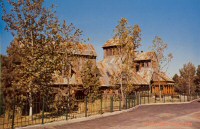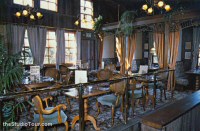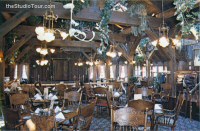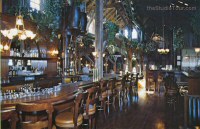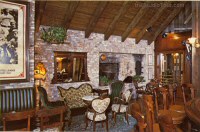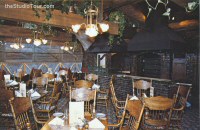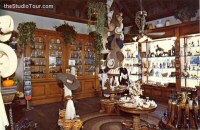 WHEEL N DEAL A WESTERN MEAL AT WOMPHOPPERS

Womphopper's Wagon Works Restaurant, located adjacent to Universal Studios Tour, is an 1880-style wagon factory and dealership that features fair deals on lunch, dinner and supper, with a special menu for whippersnappers under 12. There's a fantastic selection of entrees, appetizers, salads and the sweetest dessert deals ever. Plus a fully-loaded saloon and the wompinest, stompinest live country-western entertainment nightly. In addition, there is exhibition cooking in the Main Dining Room and a souvenir shop on the premises.

Womphopper's Wagon Works was inspired by C.L. Womphopper, a legendary slick-talking wagon salesman who invented wheeling and dealing. As a young man, C.L. perfected a sales pitch that could sell perfume to a buzzard. He began with horse trading, which lead him to wagons, buggies and backboards. By the time he descended on the unsuspecting citizens of early Los Angeles, he'd taken in enough cash to open Giant Womphopper's Wagon Works, perched atop a hill overlooking the much-travelled Cahuenga Pass.

Today, old C.L. is gone, but his legend lives on at Womphopper's Wagon Works Restaurant, operated by his descendant, C.L. Womphopper IV, with the assistance and co-operation of MCA Recreation Services, a division of MCA Inc.

Open every day 11:00a.m. until 2.00a.m. VISA, MasterCard, American Express, Carte Blanche.

Much of Womphopper's appeal and uniqueness is due as much to its architecture and design as to its excellent repasts. The exterior of the restaurant was planned strictly within an authentic wagon works and dealership theme. Womphopper's boasts timeworn timber wood and actual corrugated tin roofs. The wood is principally yellow pine, acquired and shipped from as far away as Idaho, Oregon and Washington. To acquire barn wood, actual barns, many dating back to the days of C.L.Womphopper himself, were purchased and torn down timber by timber. For the roofing, Womphopper's architects used corrugated tin exclusively, in keeping with methods from the 19th century. Architectural design was created by Lynne Paxton, AIA.
Food: Tony Romas

(1988 - 1995)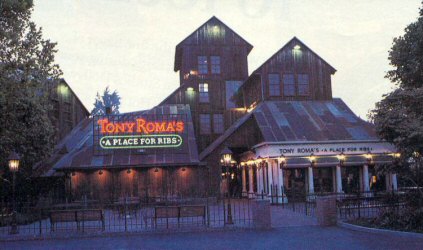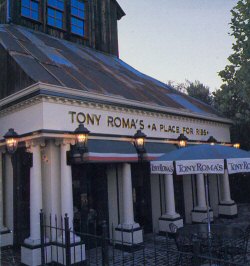 A thinly disguised re-use of Womphoppers Restaurant (now the Saddle Ranch Chop House). A newer branch of Tony Roma's can now be found in the middle of Universal CityWalk.
Food: Country Star Restaurant

(1995 - 2000)
This country music-themed chain of restaurants took a well deserved place at the end of CityWalk after Tony Roma's. The chain was owned by a number of country music superstars (Vince Gill, Wynonna Judd, Reba McEntire) and TV hosts Lorianne Crook and Charlie Chase.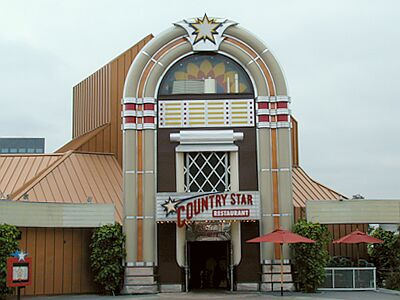 More information at www.seeing-stars.com
Saddle Ranch Chop House

(2003 - present)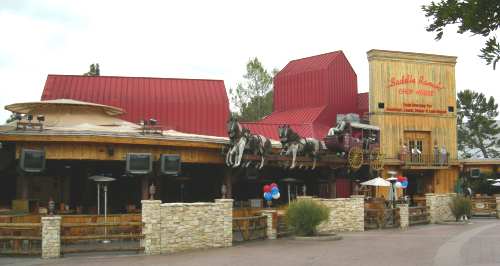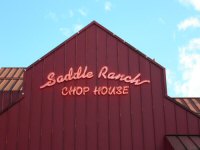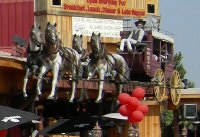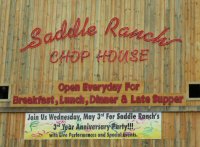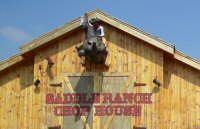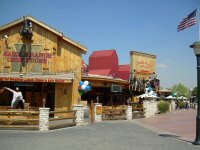 After a long line of predecessors, the venue that started life in 1981 as Womphoppers Restaurant is now the Saddle Ranch Chop House. The venue opened in May 2003 after a 3 year closed period following the closure of the Country Star Restaurant.
Back to...
Leave Comments
Content and photos (c) theStudioTour.com except where noted.