Universal Studios Hollywood

The Blues Brothers Stage
(1991 - November 2014)
A Live Outdoor stage concert by Jake and Elwood Blues - the Blues Brothers. Featured in John Landis' classic 1980 movie, the brothers and their music has taken on legendary status and instantly causes everyone to stop, smile and tap their feet.
The Blues Brothers Stage shown below was demolished as part of the Victoria Station redevelopments in November 2014. It's not known if the Blues Brothers will return to the park.
They can sometimes be seen playing at the Universal Plaza.
Photo Gallery

The Past
In the days before Universal House of Horrors, the Victoria Station restaurant extended from what is now Hollywood Photoland right down to the Blues Brothers stage.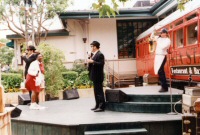 Back to...
Leave Comments
Content and photos (c) theStudioTour.com except where noted.