Universal Studios Hollywood

Beetlejuice's Rockin' Graveyard Revue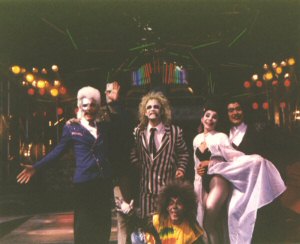 Opened in Summer 1992 (outdoor stage)
Closed in September 1999 (Castle Theatre)
Based on the Tim Burton film Beetlejuice made in 1988. The character played by Michael Keaton in the film is called Betelgeuse (named after the planet). It's not entirely clear why the film title is spelled differently.
The show opened on a small outdoor stage near the current site of T2:3D before moving into the Castle Theatre around 1995.
The show can still be seen at Universal Studios Florida.
From the Universal Studios website, 1996:
Rock 'n' roll will never die... not if a certain macabre musical quintet has anything to say about it.
They've practiced their licks, perfected their chops, and now the top ghouls in the business -- Dracula, The Phantom of the Opera, The Wolfman, The Bride of Frankenstein and Frankenstien himself -- are ready to inject some fresh blood into classic rock 'n' roll favorites.
Brought together by that morbid maestro, Monsieur Beetlejuice, this fulsome fivesome rips through a killer of a show in Beetlejuice's 1,800-seat graveyard theater. For 25 electrifying minutes, they serve up a high-voltage dance concert that combines heart-pounding music with hot MTV-style dance steps, brilliant high-tech lighting, jaw-dropping special effects and spectacular illusions.
It's such a devilishly popular show, Beetlejuice offers it to the public eight times a day. Don't miss it -- you wouldn't want to make him mad.
External Links:
Review (from Website for the Recently Deceased)
Video of final cast (2 days before closure) in the Castle Theatre
Photo Gallery

Back to...
Leave Comments
Content and photos (c) theStudioTour.com except where noted.