Universal Studios Hollywood

Animal Actors School Stage (?1970 - 2001)
Universal's Animal Actors (2006 - present)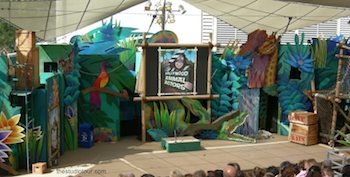 The Animal Actors stage is on the Upper Lot. Animal performers have been a feature of the Universal tour since the very early days. At one point it was more precisely named "Lassie's Animal Stage" to celebrate the massive success of the movie dog.

The Animal Actors show moved into the Castle Theatre while the Animal Planet retheming to the main Animal stage was underway. (January – April 2001)

The Animal Planet theming was removed in March 2006 and the Animal Actors stage recovered it's previous identity as the "Hollywood Animal Actors Stage" (see photo left) and then evolved into "Universal's Animal Actors". The show continued to run while it was rethemed which resulted in a few gaffes like Animal Planet Live logos still visible being visible in the "Ham Cam" video footage, and the show host mentioning the channel a couple of times. Within a few weeks, these were ironed out, and the show was fully rethemed and updated by June 2006.
Photo Gallery
See also:
Back to...
Leave Comments
Content and photos (c) theStudioTour.com except where noted.