Sony Pictures Studio
Buildings
Sony Pictures Plaza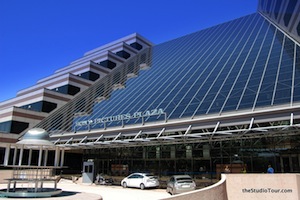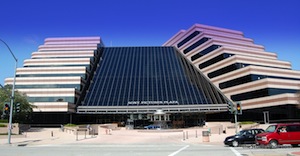 Impressive 345,000 sq ft office building which is the corporate base for Sony Pictures. It was originally known as the Filmland Corporate Center and was built in 1986 by Los Angeles architect Maxwell Starkman (1921- 2004). It was 50% occupied by M-G-M/UA when they moved from the Thalberg building on October 28, 1986.
Seen on Screen:
---
The Thalberg Building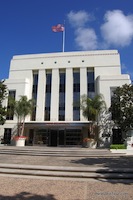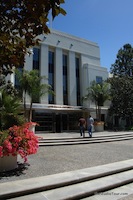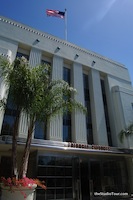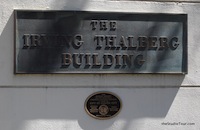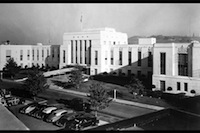 Named after famed Columbia producer Irving Thalberg, this executive building opened in 1938, and is the famous headquarters of Columbia Pictures. The foyer contains the twelve Best Picture Academy Awards won by Columbia between 1934 and 1987.
The Thalberg building originally housed the executive offices of MGM. Louis B. Mayer, studio chief of MGM, had an office on the third floor and a private dining room on the fourth.
This building is considered one of the most impressive examples of Moderne style architecture in Southern California. To reflect that design, the lobby has butterflied walnut walls, terrazzo floor and a Lalique crystal screen, which mirrors the design of the elevator doors just outside the lobby area.
From Sony Pictures Entertainment Museum
Seen on Screen:
Spider-Man (2002) [graduation scene - the Columbia Pictures sign replaced by Wildcats banner]
The Loved One (1965) [Megalopolitan Studios exterior]
The lawns outside the Thalberg building have represented New York's Central Park in a number of projects including;
King of Queens
Rules of Engagement
13 Going On 30
More information:
---
Joan Crawford Building
Originally it was Louis B. Mayers' private dining hall, but when strict licencing laws were introduced to provide schooling for young actors, it was converted into a schoolhouse, used by actors such as Mickey Rooney and Judy Garland.
PHOTO COMING SOON
---
Judy Garland Building
This building is now occuplied by Adam Sandler's production company Happy Madison.
---
Sidney Poitier Building
---
See also
Back to