Shepperton Studios - Stages
In the 1930s, when it was known as Sound City, there were two sound stages:
Sound Stage No. 1 (80ft. x 45ft.)
Sound Stage No. 2 (110ft. x 80ft. with camera and recording rooms and electricians shop).
The Sound City brochure from around 1935/6 says "These stages are provided with modern lighting equipment and the new system of Tubular Scaffolding - 2 Mobile Sound Vans of Marconi Vistatone non-royalty recording; 4 Studio Cameras on "Dollys," including the latest 1935 model Debrie; Synchronous Back Projection and Play Back."
Present Day
H Stage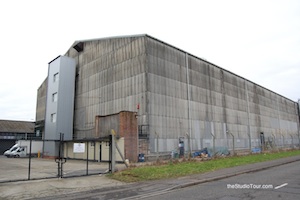 See also Backlot page for photos of the housing estate at the rear of H Stage.