Shepperton Studios - History
1689
Local nobleman, Thomas Wood, builds Littleton Park, a mansion house which still stands in the centre of the 60-acre Shepperton site more than 300 years later. The Woods live at Littleton Park for almost 200 years. Their home was grandiose and played host to many royal visitors.
1876
A devastating fire caused damage which took more than 25 years to put right. The house was restored by Sir Richard Burbridge who was the Managing Director of the world-famous department store Harrods, in central London. Burbridge refurbished the house using timber from the original Houses of Parliament.
1931
Norman Loudon, owner of Flicker Productions, buys Littleton Park House (built in 1689) with 60 acres of grounds, including a stretch of the River Ash at Shepperton. The studio facility opened for business in 1932 as the base of Flicker Productions, which produced popular 'flick' books of photographs. Mr Loudon had his sights set on full feature film production.
1932
Mr Loudon founds 'Sound City Film Producing and Recording Studios'. That year, Sound City produced three shorts for MGM and two features ('Watch Beverly' and 'Reunion')
1934
Studio is renovated providing additional facilities including seven sound stages, twelve cutting rooms, three viewing theatres, scene docks and workshops. During this time the old house is refurnished to provide hotel and restaurant facilities.
Plan of the Sound City Lot around 1935 (click to enlarge):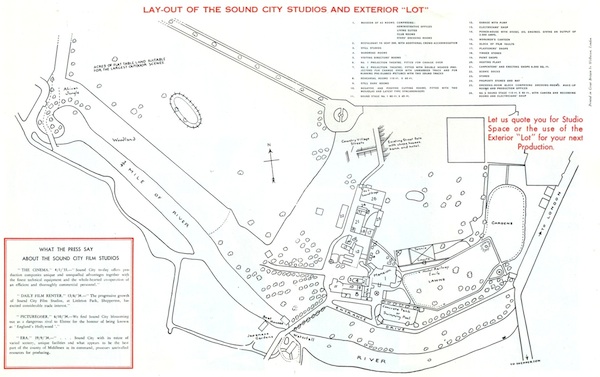 1941
The studio is requisitioned by the Ministry of Defence, first as a sugar storage location, then later to create decoy aircraft and munitions for positioning in the Middle East.
1945
The studio reopens, and changes hands. Norman Loudon retires, and Sir Alexander Korda acquires 74% controlling interest over Sound City.
1946
Sound City is renamed the 'British Lion Studio Company'
1984
Lee International pays £3.6m for the studios and begin a programme of refurbishment, including the planning and construction of new workshops, completed in 1987. The studio is renamed Lee International, Shepperton.
1995
Ridley & Tony Scott acquire Shepperton.
2001
Pinewood Studios buys Shepperton from the Scott brothers to offer a larger studio complex to incoming productions.
2004
Pinewood Shepperton floats on the London Stock Exchange.
?date
The Old House is bought by Simply Networking Solutions
2008
New Gainsborough Building Opens at Shepperton
Housing workshops and open plan offices for film and TV productions located at the Studios, the top floor of this 60,000 sq foot building will be available for longer term occupation from companies within the media sector who will benefit from basing all or part of their operation at Shepperton.
The completion of the building is a major step in the first phase of Shepperton's Masterplan, a joint venture with Morley to further develop the Studio's facilities.
Says Pinewood Group's CEO Ivan Dunleavy "Shepperton's Gainsborough building will provide a new focal point for the UK's creative industry, hosting world class film and TV production teams together with leading media specialists. We're delighted the Culture Minister is attending to mark the occasion."
Margaret Hodge commented "Outstanding productions need the best possible facilities, and this important new base for media companies will help ensure that Shepperton Studios continues to make a vital and sustained contribution to the success of our film, TV and commercial sectors."
More about the Gainsborough Building
Sources:
Back to Shepperton Studios page