Shepperton Studios - Backlot
In common with many studios, the former expansive backlot was sold off to raise revenue. Surrounding the studios now is a housing estate, with cinematically-related road names being the only clue to the history.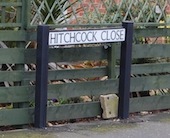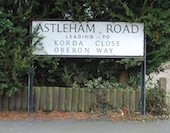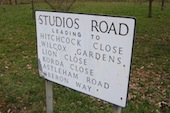 The Pink Panther Strikes Again
Still from the Panthermania documentary on the Pink Panther box set DVD, showing director Blake Edwards on the Shepperton Studios backlot adjacent to the Castle set which remained on the backlot for some years after production. This area is now a children's play area and road at the rear of H Stage (see photo above).
More about The Pink Panther Strikes Again.
Back to Shepperton Studios home page