The Production Village, Cricklewood (1979 - 2000)
Former address: 100 Cricklewood Lane, London NW2 2DS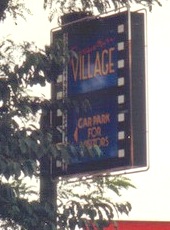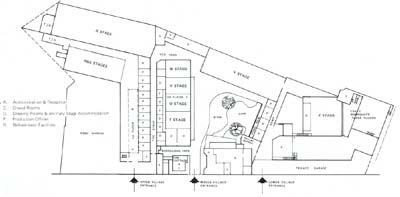 The Production Village was a combination film studio and entertainment complex. It was opened in 1979 by the Samuelson company (who specialise in camera equipment and accessories for film / TV) and was a bold experiment. The front of the complex was a village green complete with pub 'The Magic Hour' and 'The Hoggs' Grunt'. The studio itself was set in the former Handley Page aircraft factory.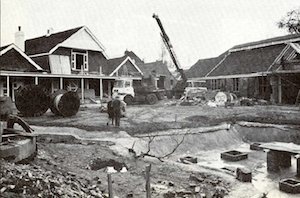 Excerpt from Clapper Board TV show, presented by Chris Kelly (1981):
In 1984 the joint managing directors were Anthony Samuelson and Bill Marshall. Eddie Dias was manager.
It closed around 2000 and is now the site of a Virgin health club / gym.
---
Advert - 1979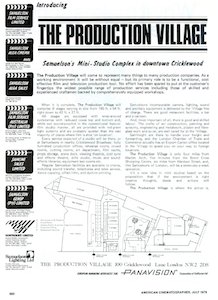 From 1979 advert in American Cinematographer:
Introducing The Production Village

Samuelson's Mini-Studio Complex in downtown Cricklewood

The Production Village will come to represent many things to many production companies. As a working environment it will be without equal - but its primary role is to be a functional, cost-effective film and television production tool. No effort has been spared to put at the customer's fingertips the widest possible range of production services including those of skilled and experienced craftsmen backed by comprehensively equipped workshops.

When it is complete, The Production Village will comprise 9 stages varying in size from 185 ft. x 54 ft. right down to 42 ft. x 27 ft.

All stages are equipped with wrap-around cycloramas with radiused coves top and bottom and, while not sound-proofed in the conventional feature-film studio manner, all are provided with red-green light systems and are probably quieter than the vast majority of places where film is shot 'on location'.

Every service expected of a studio will be there, or at Samuelsons in nearby Cricklewood Broadway: fully-furnished production offices, rehearsal rooms, crowd rooms, cutting rooms, art department, film vaults, props storage, scene dock, viewing theatres, post-sync and effects theatre, stills studio, music and sound effects libraries, equipment test rooms etc.

Regular Samuelson facilities are available to clients, including sound transfer, telephones and telex service, Xerox copying, offset litho, and dyeline printing.

Samuelsons incomparable camera, lighting, sound and ancillary equipment is delivered to the 'Village free of charge. There are good restaurant facilities, a bar and a canteen.

And, most important of all, there is good and skilled labour. The crafts of set construction, painting and spraying, engineering and metalwork, plaster and fibreglass work and so on, are well cared for at the 'Village.

Samfreight are there to handle your freight and forwarding, and the London Chamber of Trade and Commerce actually has an Export Carnet office located in the 'Village to speed you on your way to foreign locations.

The Production Village is only four miles from Marble Arch, five minutes from the Brent Cross shopping centre, six miles from Wardour Street, and, like Samuelsons of London, will be a seven-day-a-week soperation.

It's a new idea in mini studios based on the proposition that if the environment is right creative thoughts, deeds and actions will follow.

The Production Village is where the action is.
---
BBC Documentary "The Cricklewood Greats"
In 2012, BBC Four produced a parody documentary featuring a 'personal journey' through the history of 'this famous north London film studio' from comic actor Peter Capaldi.
The photo of the exterior of 'Cricklewood Studios' shown is actually the exterior of Ealing Studios.
It's a loving pastiche of earnest film documentaries, and the supposed 'Cricklewood Greats' are all very familiar to lovers of Carry On, Hammer Films and silent comedies. Unfortunately at no point does this comedy programme acknowledge that there actually were two periods of film production in Cricklewood - Cricklewood Studio (1920 - 1938) and The Production Village, Cricklewood (1979 - 2000).
---
More information
See also