The Cat In The Hat

(2003)
Directed by: Bo Welch
Cast: Mike Myers, Spencer Breslin and Dakota Fanning
page about The Cat In The Hat

---
---
---
---
Universal Studios Hollywood:
Courthouse Square, Stage 23, Stage 27, Stage 28 [interior of the Walden house], Stage 29, Stage 31
Starring Mike Myers, this colorful co-production between Dreamworks SKG, Imagine Entertainment and Universal Pictures was largely shot in Universal soundstages, including Stage 27.
The Cat also subtly plugs Universal Studios theme parks during the movie (see photo, right) when Conrad mentions an amusement park (58 mins and 45 seconds into the movie).
From the DVD documentary:
The scenes set in the Seussical town of Anville were mostly shot in Old Town, Pomona, California (where some of the paint scheme and stylised signage can still be seen) and the residential area was built on an empty hillside in Moorpark. Simi Valley, California.
Some sections of the town were built in Courthouse Square (see photos on Courthouse Square page)
The Cat in the Hat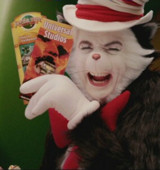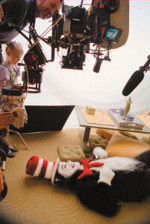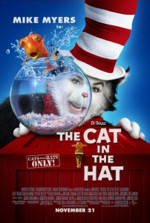 ---
---
Back to Main Home Page [3091]
---
---