Hulk

(2003)
Directed by: Ang Lee
Cast: Eric Bana, Jennifer Connelly, Sam Elliott, Josh Lucas, Nick Nolte
page about Hulk

---
---
---
---
Universal Studios Hollywood:
A new set of houses was built on Elm Street on the backlot for this movie. Banner's childhood home was built on the Falls Lake tank. These stages were used for interior scenes: Stage 01, Stage 12 [underground lab], Stage 22, Stage 23 [father's house interior], Stage 27, Stage 28 [the first floor of Bruce Banner's house], Stage 35.
As well as shooting on numerous soundstages, this production invested in completely rebuilding all of the houses of Elm Street except one (the original Boo Radley house from To Kill A Mockingbird).
This was to accommodate the flexibility required by the production - the result is that the new houses on Elm Street were steel framed with no permanent internal walls, meaning that a crew could remove any internal set walls that got in the way of production. The key house used by the production was the home of Bruce Banner. It had to accommodate a number of special effects sequences, including the destruction of the front of the house by the Hulk. Interiors for the house were built on Stage 28.
The underground lab was built on Stage 12.
In addition, Stages 22 and 27 were also used. Bruce Banner's childhood home was built on the dried base of the Falls Lake tank, with forced perspective tricks to create a seemingly endless desert environment (see photos below).
Additional information:
See also
Trailer:
Hulk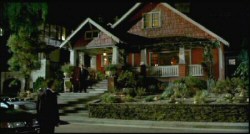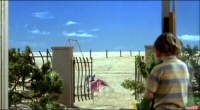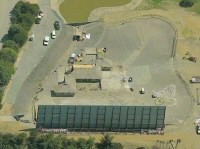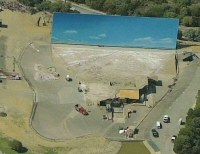 ---
---
Back to Main Home Page [3437]
---
---