Animal House

(1978)
Directed by: John Landis
Cast: John Belushi, Karen Allen and Tom Hulce
page about Animal House

---
---
---
---
Universal Studios Hollywood:
Some interiors were shot on soundstages at Universal. All exteriors were shot on location in Oregon.
Trailer:
p>
The so-called Delta House on Colonial Street was NOT featured in the movie. It was used for the short-lived TV spin-off Delta House, which unfortunately failed to capture the magic of the original. The Delta House seen in Animal House was an existing property in Eugene, Oregon (now demolished).
A replica of the Deathmobile featured in the final act of the movie can be seen on the Universal Studio Tour. It was built for the movie's anniversary, and was not featured in the movie.
At the end of the movie credits you can see a title card advertising the Universal Studios Tour, with a hint to "Ask for Babs". At the time of the movie's release, this request gained a small discount on admission. This is no longer offered.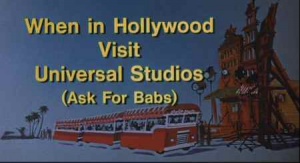 ---
Leave Comments
---
Back to Main Home Page [275]
---
---