Moonlighting

(1985 - 1989)
Creator: Glenn Gordon Caron
Cast: Cybill Shepherd, Bruce Willis, Allyce Beasley, Curtis Armstrong
page about Moonlighting

---
---
---
---
Fox Studios:
Stage 10, Stage 11 and Stage 20 at Fox Studios, Century City. In the final episode David & Maddie are seen running out of the Elephant door on Stage 20 which housed the main Blue Moon Detective Agency office set.
Universal Studios Hollywood:
Atomic Shakespeare episode was filmed at the Court of Miracles on the Universal backlot. Stage 747 was also used.
This classic 80's detective comedy/drama had viewers hooked for 5 seasons with David and Maddie's on-off relationship, along with some slapstick humour, Bruce Willis when he had hair, and some amazing stunt sequences.
The writing is the stand-out star of the show, with some episodes so densely written (and delivered by Bruce Willis and Cybill Shepherd) at such a pace, that scripts were often twice the number of pages than usual.
Fantasy sequences rarely seen on TV these days took the cast far beyond the Blue Moon Detective Agency on many occasions. If you've not seen Moonlighting, it's essential.
Pilot Episode
Atomic Shakespeare
The show ventured across to Universal Studios Hollywood's backlot - exterior scenes for this episode were shot on the historic Court of Miracles. The shooting schedule meant that some scenes vary between bright sunlight and dark skies with artificial lighting.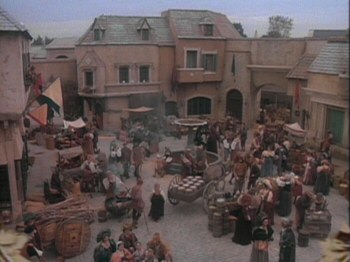 Big Man on Mulberry Street
Stunning dream sequence directed by Stanley Donen - truly classic television. Billy Joel's song Big Man on Mulberry Street song was inspired by earlier episodes of Moonlighting, and he approached the show about whether it could feature. This episode was written specially.
---
Leave Comments
---
Back to Main Home Page [959]
---
---